TRAVEL BANS DO NOT HIDE VIOLATIONS
Statement from the coalition:
27 June 2016
This week, members of The Regional Coalition for Women Human Rights Defenders were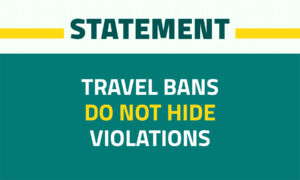 scheduled to hold a meeting in Beirut. Mozn Hassan, as the co-founder and our North Africa advisor in WHRD-MENA was expected to be among us to discuss strategies to protect WHRDs struggling each day in our region to exist against all odds.
On the 27th of June 2016, we were shocked to discover that Mozn Hassan was not able to board her plane, as she was banned from traveling. This travel ban is linked to the infamous case 173, where Mozn Hassan is a defendant, and where a hearing session has yet to be scheduled.
The Regional Coalition for WHRDs in the MENA is extremely concerned with this recent development in the case 173. The Egyptian state is pushing Mozn Hassan and many other WHRDs to be completely isolated as it seeks to cover up all violations against human rights in Egypt.
Mozn Hassan is a brilliant Woman Human Rights Defender, driven by her feminist passion, and her belief that all Egyptians are entitled to justice and a decent life. The decision to impose a travel ban will not stop us from supporting her and to stand in solidarity with her. It will not also discourage us from following and monitoring closely the situation in Egypt, where WHRDs are being targeted and tortured.
We are calling upon the Egyptian state to lift the ban imposed on Mozn Hassan, among others, to end this violation against her right to movement, and most importantly, her right to defend human rights.
More on the case: http://nazra.org/en/2016/03/postponement-interrogation-mozn-hassan-civil-society-organizations-case.
Nazra's statement:  http://tinyurl.com/hrgg3aq​