Smearing Campaign against Women Human Rights Defenders in Saudi Arabia
Who are the media actors in this violence? How did the smear campaign develop?  And how can we help?
Since 15 May 2018, Saudi authorities arrested at least 12 women human rights defenders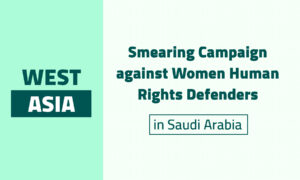 whose work is prominently focused on reclaiming women's right to drive, just few weeks before lifting the long-standing ban on women. The WHRDs that remain in detention have been identified as: Eman al-Nafjan, Loujain al-Hathloul, and Aziza al-Yousef. Nouf Abdelaziz and Mayaa al-Zahrani and the recently detained Hatoon Al Fassi.
Following the arrests, Saudi authorities, government-aligned media, and troll accounts on social media launched a public smear campaign to try to discredit the work of the WHRDs by labelling them as "traitors".
Such media outlets and social media accounts are trying to demonize the WHRDs and discredit advocacy for women's rights as human rights advocacy. Authorities are clearly seeking to instill fear and to have that fear stop other WHRDs in their struggle for a better society.
This aggressive way of attacking WHRDs can only tell one thing: That the WHRDs did create a change in social views on women's rights. The work of the WHRDs have threatened Saudi government which pushed Saudi authorities to adopt truly bizarre, even absurd, violent discourses.
However, it is important to ask who are the media actors in this violence? And how did the smear campaign develop? The info graph below answers these 2 questions. It is important that this smearing campaign reached its peak on Twitter. The infograph shows a timeline for the past 2 months and the accounts that were created a day before the arrests along with key terms used, gender and age of Tweeters.

Many regional and international organizations and WHRDs have expressed solidarity with the detained WHRDs. Many organizations have sent letters to Saudi embassies in their countries expressing their concern about the arrests and the attacks and demanding that the Saudi government guarantees WHRDs' right to defend rights.
On May 31, the European Parliament  adopted a resolution which condemned the ongoing repression of human rights defenders, including women human rights defenders in Saudi Arabia 'which undermines the credibility of the reform process in the country'. The adopted resolution called on the Saudi authorities to put an end to all forms of harassment, including at judicial level against human rights defenders, including WHRDs Eman alNafjan, Aziza al Youssef and Loujain al-Hathloul and to immediately and unconditionally release all human rights defenders. Read it here.
On June 14, 6 senators including Bernie Sanders & Dick Durbin urged Secretary Pompeo to condemn the crackdown on women human rights defenders in Saudi Arabia and to raise these concerns directly with Saudi authorities.
On June 10, the Regional Coalition, sent and submitted at least 700 signatures from at least 25 countries to several UN Special Rapporteurs and Working Groups .
On June 27, UN experts, including those we have mailed and contacted, have released a statement demanding Saudi Arabia to immediately free women human rights defenders held in crackdown.
It is important that we expose these discrediting campaigns for what they are. I we need to encourage solidarity, expressions of support, use social media and as far as possible also the diplomatic channels that countries have to express our concern and to have them communicate with the government of Saudi Arabia.