WHRDMENA Coalition Allegation Letter to UN Special Rapporteurs: 26 organizations condemn the racist measures taken against Palestinian refugees in Lebanon
Regional Coalition of Women Human Rights Defenders in MENA (the "complainant")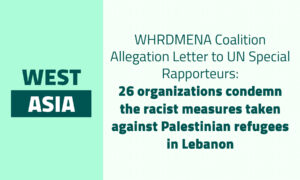 submits that the recent measures taken by the Ministry of Labor are racist, discriminatory and puts Palestinian WHRDs and HRDs in Lebanon at risk.
Complaint submitted to:
To Ms. Michelle Bachelet, The High Commissioner for Human Rights, 
To Mr. Felipe Gonzalez Morales, the Special Rapporteur on the human rights of migrants, 
To Ms. E. Tendayi Achiume, the Special Rapporteur on Special Rapporteur on contemporary forms of racism, racial discrimination, xenophobia and related intolerance,
To Mr. Michel Forst, the Special Rapporteur on Human Rights Defenders,
Ministry of Labor's actions & human rights violations: 
WHRDMENA Coalition and the undersigned signatories consider that the issues presented in this document raise important human rights concerns in relation to Lebanon's obligations under international human rights law in general, and under the Discrimination Convention, International Covenant on Economic, Social and Cultural Rights, Charter of the United Nations, & International Covenant on Civil and Political rights in particular. Lebanon is also a member of the International Labour Organization.
On Monday 15 July, Ministry of Labor inspectors closed down several stores, companies & businesses owned by Palestinian refugees in Saida, Chekka & other parts of the country. Several Palestinian workers have also reported that their job was terminated due to the inspection done by the Ministry of Labor. 
This comes after the Ministry of Labor's decision to crackdown on 'illegal refugee/migrant workers'.The Ministry of Labor's decision to include Palestinian refugees in their arbitrary crackdown on undocumented non-Lebanese workers constitutes a flargant human rights violation. 
The Ministry of Labor is requesting that all Palestinian workers must have work permits. The work permit, however, cannot be practically obtained. For Palestinians, in order to obtain a permit, they must they must first get a work contract which entails enrollment and payment for the government's social security programme – a scheme they, as Palestinians, are banned from having any immediate benefits from, including in healthcare, sick leave and others. Speaking to a local TV station on 18 July, Camille Abu Sleiman, Lebanon's labour minister, said the ministry was simply enforcing the laws that regulate foreign labourers in the country and denied targeting Palestinians. As refugees, Palestinians get assistance in education and healthcare through the United Nation's agency for Palestinian refugees (UNRWA). But one of the key Palestinian grievances that has emerged in recent weeks has been the Lebanese government's lack of clear and proper categorisation of the Palestinian presence in the country. Lebanese law refers to Palestinian workers broadly as "foreign workers" but recognises their particular situation because they cannot, as "foreign workers", return to Palestine.
The Ministry of Labor's decision to include Palestinian refugees in the ongoing crackdown may affect the livelihood of at least 200,000 Palestinians who are already working and living in precarious conditions. 
The lack of economic opportunities and employment is a marker of the situation of Palestinian refugees in Lebanon. Under international law, Lebanon is bound to respect the rights contained in the ICESCR, which it ratified in 1972. Article 6 of the ICESCR states that 'Parties to the present Covenant recognise the right to work, which includes the right of everyone to the opportunity to gain his living by work which he freely chooses or accepts, and will take appropriate steps to safeguard this right.
However, the Lebanese laws concerning the employment of Palestinian refugees breach its obligations under international law. For starters, economic opportunities for non-Lebanese nationals within Lebanon are safeguarded by reciprocity. Article 59 of the Law of Work for Foreigners 1946 grants non-Lebanese workers with the same rights as Lebanese workers provided that their country of origin offers the same to any Lebanese nationals in their territory. 
Palestinian refugees hold no official nationality, they are excluded from the benefits of this law and are denied the work-rights accorded to other foreigners working in Lebanon. Additionally, other Lebanese laws have imposed multiple obstacles to the Palestinian refugees' employment opportunities.
 – Firstly, Ministerial Decree No. 621/1 of 1995 declared over 50 professions for Lebanese citizens only including banking, medicine and law.
 – Secondly, 30 professions require membership in a syndicate either in Lebanon or in the worker's original country of nationality. Given the applicability of the reciprocity policy, Palestinian refugees are also excluded from the right to work in professions requiring syndicate membership.
– Thirdly, Palestinian refugees cannot own any business enterprises unless there is a Lebanese partner.
Based on the above, the new measures taken by the Ministry of Labor go in opposition to Lebanon's obligation to protect human rights as it has ratified human rights treaties including the International Covenant on Civil and Political Rights (ICCPR) the International Covenant on Economic and Social Rights (ICESCR), which make it liable to respecting, protecting and fulfilling a number of human rights predicated to its Palestinian refugee population.  
We are also highly concerned that the measures taken by the Ministry of Labor will put tens of human rights defenders and women human rights defenders who work in various organizations and associations at risk. Palestinian WHRDs & HRDs have been doing much needed work for the Palestinian community for decades without  access to any protection mechanisms or support. Their work includes but not limited to: defending human rights for Palestinian refugees, engaging in feminist & women's rights work, aid work, community work and much more. 
Palestinian WHRDs and HRDs face many restrictions, in additition to the ones mentioned above. Palestinians WHRDs & HRDs are banned from peaceful assembly even though peaceful assembly is an essential prerequisite to effective human rights work. It is protected under numerous international and regional instruments which require states to respect, protect and fulfil the right without discrimination. They also cannot form formal or informal groups, associations and organizations which is a critical element of the work of HRDs. It is protected under numerous international and regional instruments which require states to enable the effective functioning of associations and to refrain from imposing conditions on registration that might operate as undue restrictions. The work done by Palestinian WHRDs and HRDs must not be hindered due to arbitrary measures that puts them at more risk. 
We therefore ask you to:
Condemn in a public statement the new measures against Palestinian refugees which only causes them to become more and more precarious with no form of protection. 

Urge Lebanon to adopt the demands carried out by civil society groups in Lebanon which request the Government to legally categorize Palestinian refugees, grant economic and civil rights to the Palestinian populations and ownership rights. 

Assure the Lebanese government that the work done by Palestinian HRDs and WHRDs should not be stopped, as it highly vital for the Palestinian community in Lebanon. Lebanon is obliged to take measures to establish and maintain a safe and enabling environment for HRDs and WHRDs to function in.
Thank you for your time. 
Signatories:
Background
Based on their legal status and registration with the United Nations Relief and Works Agency for Palestine Refugees in the Near East (UNRWA), Palestinian refugees in Lebanon can be categorized into four groups: 
 "Registered" refugees ("Palestine refugees"), which are registered with UNRWA and the Lebanese authorities;  

"Non-registered" Palestinian refugees, which are not registered with UNRWA, but are registered with the Lebanese authorities;  

"Non-ID" Palestinian refugees, who are neither registered with UNRWA nor with the Lebanese authorities; 

and  Palestinian refugees from Syria, who have arrived in Lebanon since 2011.
Palestine refugees in Lebanon reportedly continue to face acute socioeconomic deprivation and legal barriers to their full enjoyment of a broad range of human rights. Palestine refugees in Lebanon are reported to have historically been marginalized and excluded from key aspects of social, political and economic life with no right to own immovable property; severely curtailed access to public services (other than those provided by UNRWA), such as health and education; and restrictions regarding specific professions and limited job opportunities.
Changes to Lebanese law in 2005 and 2010 gave Palestinian refugees in Lebanon legal access to some formal employment in the private sector that had previously been limited to Lebanese nationals. Nevertheless, legal prohibitions reportedly persist on access for Palestine refugees to liberal or syndicated professions (including in medicine, farming and fishery, and public transportation). Moreover, Palestine refugees in Lebanon have only partial access to the National Social Security Fund. In order to work, Palestinian refugees in Lebanon are required to obtain an annual work permit at no cost. However, obtaining a work permit reportedly involves a lengthy administrative process, for which the refugees depend on the goodwill of their employers, thus limiting the effectiveness of these legal changes. According to ILO, the number of Palestine refugees holding a work permit is very low. Most Palestine refugees in Lebanon are reported to work in menial, low-paying jobs in the informal sector.