Detention of Mahienour El-Masry: Release her immediately!
Since 2013, Egypt has witnessed a shrinking of the public and civic space due to the banning of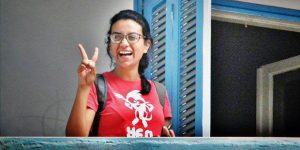 demonstrations, targeting women human rights defenders and their institutions, subjecting them to judicial harassment and travel ban, and freezing their assets. ِIn addition to the limitation of freedom of expression, and widespread use of intimidation tactics against people. The Egyptian authorities refuse to commit to their human rights obligations,  despite all appeals from the international community calling on Egypt to reconsider its government policy regarding freedoms, including the right to freedom of expression and the right of civil organizations to work. This portends a catastrophe on the level of violence and repression in Egypt which may lead to the deaths that can be saved by putting pressure on the Egyptian government. 
At the beginning of last month, a call for protest was circulated through social media platforms to demonstrate against the prevailing climate in Egypt and object to the management of the state joints, which some Egyptian citizens responded to all over the country. Protestors were confronted with severe violence; in Suez Governorate live bullets and tear gas bombs were fired. The police also carried out mass arrests in different governorates in a violent crackdown that arbitrarily targeted people and passengers on the streets,  regardless of the law. Detainees have been estimated to be around 1003*. Lawyers working following up on arrests and investigations reported that many of the detainees were under 18 years old. Many have also reported the disappearance of their relatives since September 20, 2019.
In the midst of this context, the Regional Coalition of Women Human Rights Defenders in the Middle East and North Africa received the news of the arrest of lawyer and WHRD Mahienour El Masryi on the night of September 22, 2019 as she was doing her work as a lawyer.. She was arrested by security forces outside of the State Prosecution Office in Cairo and taken to an unknown location. 
On 23 September 2019, Mahienour El Masry was presented to  the Supreme State Security Prosecution which ordered 15 days of preventive detention for El-Masry. She is facing charges of "joining an illegal group", "publishing false news", and misuse of social media".
The arrest of WHRD Mahienour El Masry can be only understood as a reprisal act by the Egyptian government, which aims at intimidating WHRDs and HRDs, especially those related to the detainees. This act also aims at silencing those documenting violence committed against detainees in police stations. 
For many years, human rights lawyer and woman human rights defender Mahienour El Masry  has defended a variety of rights, including the right to demonstrate, defended detainees, and documented abuses by state actors as well as abuses against Syrians refugees in Egypt. Mahienour El Masry also received the Ludovic Triario International Human Rights Award in June 2014 in recognition of her work in defense of various rights. She is the second recipient of this award, after Nelson Mandela received it in 1985.
The WHRDMENA Coalition calls on all human rights defenders groups, and organizations to:
carry out a wide-ranging solidarity campaign with Mahienour El Masry and all prisoners of conscience.

Demand the Egyptian government to release her immediately and drop all charges against her immediately and unconditionally.