Iraq: gunmen assassinate Jannat Mazi in Basra
Women human rights defenders (WHRDs)  in Iraq have been subjected to a campaign of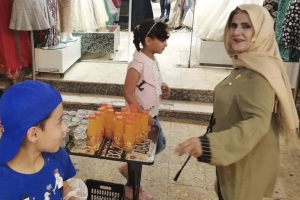 intimidation and kidnapping since the start of the protests in October 2019. The Iraqi authorities and militias are facing these demonstrations with extreme violence, which resulted in hundreds of deaths. 
On January 22, the Regional Coalition of WHRDs in MENA received the news of the assassination of WHRD and field activist Jannat Mazi by an armed attack in the city of Basra in southern Iraq, where she was heading on her way back home, with a group of activists who provide medical services and first aid to the demonstrators. Five people were attacked and seriously wounded. This assassination comes after the killing of ten protesters during the past two days in Baghdad, according to the Iraqi Commission for Human Rights.
Field activist Jannat Mazi worked as a field paramedic from the beginning of the demonstrations. She is known for providing support and services to orphans as well as to women who have lost their husbands due to the violence against demonstrations.
Violence in demonstrations across the country has killed about 460 people, most of them protesters, and wounded more than 25,000, according to official sources, while activists and human rights organizations speak of more than five hundred deaths.
On December 2, protestor and field activist Zahraa Ali Salman (19) was kidnapped by unknown persons. Ten hours after she was kidnapped, unidentified people threw her body in front of her home. According to the forensic medical report published by her family, she was beaten with metal tools to break her bones and was subjected to electric shocks before her assassination. Zahra Ali Salman was a student at the Iraqi University and a field activist in Baghdad, where she helped distribute food and drink to the demonstrators with her parents.
Since the beginning of October, human rights defenders have been found dead in a number of Iraqi cities.. Women human rights defenders have been subjected to a campaign of intimidation, kidnapping and threats since the start of the protests. On November 2, 2019, field activist and paramedic Saba al-Mahdawi was kidnapped by an armed group, upon her return from Tahrir Square in Baghdad to her home. She was released on November 13, nearly two weeks after her kidnapping.
On October 8, the Coalition received information on the disappearance of WHRD Mary Mohamed, who was released after more than five days of being kidnapped. She explained in her testimony that she was in solitary confinement for interrogation and said that the security forces told her that the reason for her arrest was "to make sure that she did not receive any support from foreign authorities."
The Coalition also documented that at least four WHRDs have received death and kidnapping threats in the past two months. The Coalition also documented the martyrdom of five women demonstrators, who were Maryam Kamel, and Shahad Ali, Alia Salah, Marwa Hassan, Alia, Sarah Haidar, and Zina Baha. The Coalition also stresses on the continued difficulty of communication and documentation. The Coalition  also learned that the security forces are investigating all the WHRDs present in the protest scenes and collecting all personal information about them.
The Coalition asks the international community to:
Pressure the Iraqi authorities to end the violence and oppression directed against demonstrators, including the use of weapons, live ammunition, rubber bullets, and gas bombs. The

Constitution

of Iraq protects the right to freedom of peaceful assembly and demonstration. The Iraqi government is also obliged under international human rights law to protect the right to freedom of expression and peaceful assembly, and its security forces should strictly abide by the "UN Basic Principles on the Use of Force and Firearms by Law Enforcement Officials" and apply non-violent means before resorting to violence. The authorities should ensure as well that law enforcement forces are properly trained on the use of tear gas in accordance with the UN Basic Principles.

Pressure the Iraqi authorities to identify militias threatening, kidnapping and assasinating demonstrators, human rights defenders and journalists.

Remind the Iraqi authorities of the need to enable a safe and sound environment for the work of women human rights defenders, taking into consideration the former's history of oppression, threats, and even the assassination of women human rights defenders. This means that WHRDs, under the current circumstances, are facing life risks that require urgent and secure protection.
Background Information
Peaceful demonstrations began on October 1, 2019 in the cities of central and southern Iraq, including Baghdad, Basra, Najaf, Babel, and Diwaniyah. Demonstrators reiterated the demands of previous protests in July 2018, calling for an end to corruption and unemployment, condemnation of the poor nature of public services and building a state that respects the law and public freedoms of all citizens.
As protests continued in defiance of the imposed curfew, riot police and other members of the security services began using excessive force, such as firing live ammunition directly at crowds rather than aiming over heads, using sound bombs, hot water cannons and tear gas. In two other incidents, armored vehicles ran over the protesters. Several reports confirmed that snipers were lurking on building rooftops to hunt down the protesters, yet the authorities claimed that these were not state forces. These acts constitute a direct violation of the International Covenant on Civil and Political Rights, to which Iraq is a party.