End the silence around the Apartheid State
The regional coalition for Women Human Rights Defenders (WHRDs) in the Middle East and North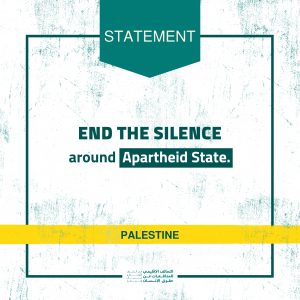 Africa (MENA) is calling on all feminist, women's rights, and human rights organizations for broader and louder solidarity campaigns, actions with mass protests, that are currently taking place in different cities and towns, including Israeli checkpoints, constructed within the Palestinian Authority territories.
Background on the case of Sheikh Jarrah
 In 1967, Israel illegally annexed all of East Jerusalem, including Sheikh Jarrah, and shortly afterwards passed the Legal and Administrative Matters Law. Like the Absentees' Property Law, which facilitates the transfer of property from Palestinians to settlers through quasi legal means. .Building settlements in international law is illegal and the United Nations has repeatedly upheld the view that Israel's construction of settlements constitutes a violation of the Fourth Geneva Convention.  As an occupier, Israel is therefore forbidden from using state land and natural resources for purposes other than military or security needs or for the benefit of the local population. The unlawful appropriation of property by an occupying power amounts to "pillage", which is prohibited by both the Hague Regulations and Fourth Geneva Convention and is a war crime under the Rome Statute of the International Criminal Court and many national laws. Israel's settlement policy also violates a special category of obligations entitled peremptory norms of international law (jus cogens) from which no derogation is permitted. The International Court of Justice (ICJ) affirmed that the rules of the Geneva Conventions constitute "intransgressible principles of international customary law". 
 Nevertheless, twenty-eight families are currently facing the risk of expulsion and dispossession from their houses, bearing in mind that these families have already paid the price for their houses. In the 50s, the Jordanian government, together with the UN, reached an agreement to settle these families in Jerusalem in return for their United Nations Relief and Work Agency for Palestinian Refugees in the Near East (UNRWA) documents. Today, over 1,500 Palestinians from neighborhoods in Jerusalem are facing the threat of forced displacement and home demolitions by Israeli authorities.
 Over the past week, Palestinian families in Sheikh Jarrah have a led a campaign to protest the illegal eviction, where this campaign has sparked a bigger protest movement among the Palestinian population in cities such as Haifa, Yaffa and Lod (Lydd), as well as in Nablus, Hebron and Ramallah, faced with Israeli police brutality, yet submerged with an unprecedented wave of global solidarity that has confronted social media companies such as Facebook, as they tried to censor – the news coverage, and forced them to allow Palestinians and supporters to express their views and news without being silenced. In addition, the Israeli Court has postponed the hearing until sometime in June to determine whether four Palestinian families neighborhood will be dispossessed.
Several key multilateral organizations, governments and agencies spoke against the violations taking place, including the OHCHR, EEAS, Statement by Spokespersons of the Foreign Ministries of France, Germany, Italy, Spain and the United Kingdom on Israeli Settlements, and lately the UNRWA condemning the evictions and calling on Israel to respect international laws and the Human Rights of the Palestinian residents of Shiekh Jarrah.
Yet, all of the above doesn't paint an accurate picture, nor does it  explain truly, why the protests are almost in every single Palestinian city and town. What explains it, can be summarized in the recent Human Rights Watch report that has concluded that Israel is an apartheid state, and where palestinians have been facing not only systemic racism and discrimination against them, but have been denied access to resources that guarantee their wellbeing and welfare. It is time to break the silence around the apartheid state discriminating against palestinians. 
The Regional WHRD MENA Coalition calls on Human Rights organizations in the region to speak up, with clarity and with no fear, against the apartheid state of Israel, and to immediately conduct solidarity campaigns and actions with Palestinians, through contacting the Special Rapporteur on the situation of human rights in the Palestinian Territory occupied since 1967; Working Group on Arbitrary Detension (WGAD@ohchr.org); Special Rapporteur on the promotion and protection of the right to freedom of opinion and expression (freedex@ohchr.org); Special Rapporteur on the rights to freedom of peaceful assembly and of association (freeassembly@ohchr.org); Special Rapporteur on the right to adequate housing (srhousing@ohchr.org); Special Rapporteur on the situation of human rights defenders (defenders@ohchr.org); Special Rapporteur on the human rights of internally displaced persons (idp@ohchr.org); Special Rapporteur on violence against women, its causes and consequences (vaw@ohchr.org; Working Group on discrimination against women and girls (wgdiscriminationwomen@ohchr.org) and demand the following: 
1- Public statements from SRs condemning Israel's actions and holding it accountable for breaking international law against Sheikh Jarrah residents. 
2- A formation of an international committee to visit different palestinian cities and locations, including prisons and detention centers, and to interview proterstors and examine all evidence of rubbert bullets, live ammunition, chemical bombs and other weapons used against protestors, in addition to collect testimonies emerging about torture in dentition centers.
We also ask International Human Rights organisations that are still permitted to do their work, to document all violations, especially where HRDs and WHRDs were not allowed to do their work, by use of force and violence.  The WHRDMENA Coalition reminds the Human Rights Organisations that the Universal Declaration of Human Rights is not divisible, negotiable or relevant only to a group of people. The silence around the systematic violations against the palestinian population living under the Apartheid State of Israel must end NOW.