Social media Consultant!
Hi! We are looking for a social media consultant for the coalition's accounts on Twitter,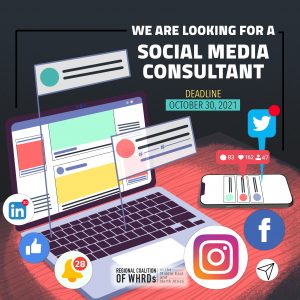 Facebook, Linkedin, YouTube, and Instagram. They will manage the profiles, share content, take care of followers, and maintain the coalition's image and distinctive brand!
Qualifications 
Evidence-backed experience managing social media accounts for the non-profit sector. Their social media presence shouldn't, in whatever ways, stand against human rights and our values. They have experience in developing policies for organizations related to social media. They possess outstanding ability to manage time and tasks and excellent communication skills. Professional writing ability in Arabic and English prepared. Can use design programs and make professional and straightforward designs. Ability to write monthly reports for accounts, analyze the interaction and extract recommendations and lessons learned. Ability to create weekly and monthly plans for accounts and campaigns . They are team players and can handle the responsibility for managing accounts and maintaining the coalitions' distinctive image and brand. They have the ability and desire to learn and share experiences as well.
Credibility and commitment in work by providing two recommendations from an institution in which they worked or from two people known to the public in human rights. If you are interested, send a proposal and hourly rate schedule to: comms@whrdmena.org .Also, send previous or current accounts you manage(d).
The proposal should not exceed 1000 words or less than 750, answering the following questions:
Could you introduce yourself to us?How do you see the job of a social media officer for a non-profit organization? Which social media platform audience, you prefer: Twitter or Facebook, and why? Name the best accounts you follow on Twitter and Facebook and state the reasons? What do you think the coalition needs to have a more significant presence on social media! Send four memes that sum up your approach to social media.
Deadline: October 30, 2021