#SheDefends |Launching Statement for the 16 Days of Activism
Launching Statement for the 16 Days of Activism Campaign to Combat Violence against Women, all Women.
#SheDefends
The Regional Coalition for Women Human Rights Defenders in the Middle East and North Africa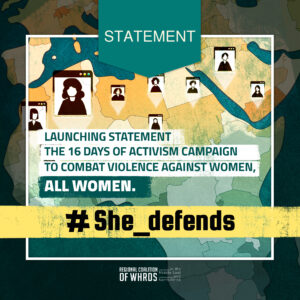 (WHRD MENA) shares with you visual material for the 16 Days of Activism Campaign to Combat Violence against Women for 2021. It starts with a question about the state of WHRDs in MENA after 2 years of isolation due to borders' closure as a worldwide measurement against the COVID pandemic that wore us all down and disrupted our realities to a great extent. In 2020, the coalition worked on exploring the concept of well-being with members which was very well received by feminist movements in our region. This year, #SheDefends explores questions on the effect of isolation on WHRD movements, which has 2 facets for us, where the primary questions explore what happened in contexts in which our members are active, and how governments have benefitted from the pandemic and isolation to oppress more and more rights, and how the pandemic has covered all of these incidents that did not get coverage in the media or social media. The secondary questions on the other hand explore the forms of isolation in which our movements are located and those that we also should name and break, so our movements can regain their real source of strength, and our ability for diversity and broadening at no one's expense. The second part of the campaign works on facts and ideas that the coalition takes, and will take, seriously in the next few years, while we restructure the coalition and its administrative structure, in addition to work methods and our desire for the coalition to be a diverse space that is inclusive and supportive of WHRDs with no exception.
The coalition also launches with the platform of Open Democracy, as part of #SheDefends, content by leading colleagues from the world in feminist work and defense of human rights, that aims to provide a look into the situation of WHRDs after the rise of what is known as anti-rights groups in the world which promote policies that aim to obstruct the global rise of feminist movements and how governments are complicit with them. This content also provides a learning experience from the experience of Central American countries in bodily and reproductive rights before and after the pandemic, and it also provides additional content that takes a serious look at our work on countries of the global North as a place in which human rights violence happen and are on the rise, and how Palestine and black movements in the U.S. intersect in facing these violations. Finally, it provides content on how borders' closure affects coalitions, especially ours, and what happens when borders are closed. The articles will be available on the website of Open Democracy.