Free Women Detainees in Sudan
On 10th February 2022, the Sudanese security forces arrested 2 women; Ibthal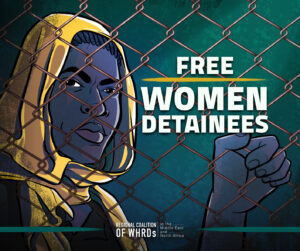 Adil and Ala Shams Eldin, from their homes during a raid in Omdurman. On February 9th, Solafa Saad was arrested on fabricated grounds implicating her and a group of activists in the mysterious death of a police officer.
The Sudanese security forces started a new arrest campaign in the last weeks. More than 160 activists are currently in detention, their whereabouts still unknown.
Since the military coup on October 25th, 2021, Sudanese women human rights defenders (WHRDs) have been facing unprecedented attacks. On 19th December 2021, at least 13 women were raped during ongoing protests, and dozens of women protesters reported sexual assault during arrest attempts. Women inside detention are at risk of torture, maltreatment, and sexual abuse. According to the recently released women detainees, the conditions inside detention are appallingly inhumane.
We call for the immediate release of WHRDs and women detainees, in addition to dropping all fabricated charges against them. We also call for an immediate independent and impartial investigation into the crimes of sexual violence perpetrated both during protests and arrests. We demand accountability for the crimes committed against Sudanese women!
Signatories:
International Service for Human Rights
Regional Coalition for Women Human Rights Defenders in MENA
Nora Center for Combating Sexual Violence
Sudanese Women Rights Action
World Alliance for Citizen Participation-CIVICUS