Sudan: Free WHRD Yasmine Diaa Sayed Ahmed!
Statement – Monday 28 March 2022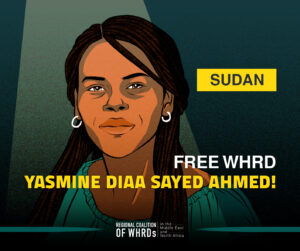 The Regional Coalition for Women Human Rights Defenders (WHRDs) in the Middle East and North Africa (MENA) condemns the kidnapping of Sudanese WHRD Yasmine Diaa Sayed Ahmed by Sudanese security forces. She was kidnapped on Wednesday, 23 March 2022 after her colleague called her under coercion. He asked her to meet him outside her house, where she was kidnapped and taken to an unknown location. Her family found out later that Yasmine was incarcerated with several political detainees. After more than 24 hours had passed, the family was informed that the primary purpose of kidnapping her was to arrest her.
Yasmine is always on the frontlines of revolutions and demonstrations in Sudan. She is a student activist at Alahfad Girls' University. The Regional Coalition believes that kidnapping and arresting Yasmine is a punishment imposed upon her for all her work for the right to public assembly and her belief in rights and freedoms.
This attack took place within a highly aggressive context toward WHRDs and activists in Sudan. Security forces are hostile toward WHRDs in the Sudanese public sphere. They have caused injuries manifested in broken bones, and they have used rubber and live bullets and murdered some of them. We have documented the infliction of sexual violence on WHRDs, whether during the dispersal of demonstrations or while they are being arrested, or during the kidnapping and arresting WHRDs and even causing a miscarriage.
It is clear from these violations that Sudanese security forces and authorities intend to steer women, activists, and WHRDs away from the public sphere and erase all the gains achieved by the women's and feminist movement in Sudan in the past few years, to render a regression in their attained rights, in spite of the resilience of the Sudanese feminist movement in proving its existence and preserving these gains, in addition to demanding freedom and democracy, during a strict context of militarization and rule of security forces.
The Regional Coalition for WHRDs in MENA adds its voice to the voice of the family of WHRD and student activist Yasmine Diaa Sayed Ahmed in demanding her immediate freedom and not to violate any of her rights, and the coalition renews its demand for an independent and transparent investigation into all crimes committed against Sudanese women and WHRDs, in particular crimes of sexual violence, and holds the Sudanese security forces responsible for Yasmine's physical and psychological wellbeing.