Learning Circles | Call for facilitators and trainers | 3rd edition
For the third year, The WHRDMENA Coalition is excited to open the call for new Learning Circles'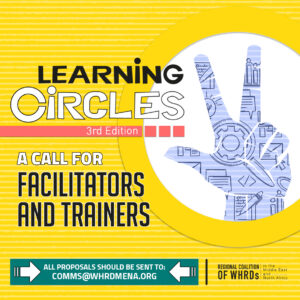 proposals for alternative non-authoritarian education sessions that relate to feminist self organized communities and movements in our region.
The Coalition would like to extend the invitation to feminist activists, practitioners, and scholars to create and host learning circles that provide the space to think, learn and reflect for and by themselves, through flexible structures that emphasize knowledge accumulation and  sharing, critical thinking, creativity, and problem-solving skills.
Learning circles mostly adopt a non-authoritarian, participatory and accessible free education format as an approach to teaching and learning processes that emphasize freedom, autonomy, and self-directed learning along with feminist principles and core values.
The Coalition opens an opportunity for interested facilitators and trainers to submit a proposal on the learning circles and their goal, provided that the members vote on the proposals that interest them. The Coalition aims to hold 15 learning circles during 2023 (from  March to December). The course of learning about any subject should not exceed 10 hours and not be less than two hours. 
The deadline to submit your pitch or proposal to hold LCs in April, May, or June is the 15th of March 2023.
The deadline to submit a pitch or proposal to hold LCs in July, September, October is 15th of May 2023.
From the learners evaluation, hands-on knowledge is needed in the areas of technology, cyber security and responding to all forms of violence. Also narrative work and skills are always needed! 
Please send all your proposals and ideas, in addition to your questions by dropping us an email at comms@whrdmena.org