"It has probably become more dangerous to be a woman than a soldier in armed conflict."
(Major-General Patrick Cammaert, former commander of UN peacekeeping forces in the eastern Congo.)
Six years since the conflict began, an estimate of 400,000 dead and around 11 million have been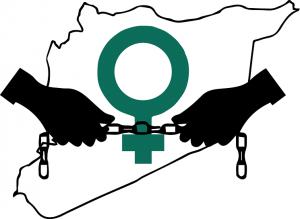 driven from their homes. This is the harsh reality of the Syrian war, a war that has created the largest humanitarian crisis since World War Two.  Like most of their counterparts in the Middle East and North Africa, women were at the forefront of the Syrian revolution in 2011, protesting against Al-Assad. What began as a peaceful protest turned into a violent civil war within months. Women and Women Human Rights Defenders (WHRDs) have been actively involved in all aspects of the on-going conflict. They have been protesting, documenting human rights violations, participating in peace talks and running community initiatives.
With men largely either engaged in fighting or prevented from leaving conflict zones, the majority of displaced Syrians are women. Fleeing the war does not mean that they have escaped violence and degradation. Lebanon, Jordan and Iraq host the most refugees (excluding Turkey) in the MENA region. However, none of the three countries have laws that regulate and protect refugees; and none are party to the Refugee Convention of 1951.  What does this mean to Syrian refugees? It means that the lack of legal standing leaves them vulnerable to a range of abuses, including exploitation and sexual abuse, without the ability to turn to authorities for protection.
W. G, a Syrian WHRD living and working in the Bekaa region in Lebanon explained to the Coalition for Women Human Right Defenders in the Middle East and North Africa the situation of WHRDs in the Syrian refugee community. As a WHRD, Weam described that NGOs and community organizations have more freedom to work in Lebanon, compared to Syria. The thriving civil society community in Lebanon encouraged her, as a WHRD, to get involved. G. has volunteered and worked with organizations such as Oxfam, ABAAD and others who had been generous with their support and resources.
However, the support of many civil society organizations has not been reflected in the policies and in social attitudes in general.  Negative stereotypes against Syrians, especially Syrian women, are prevalent in Lebanon at the community level, as well in the political discourses (just watch any of the Minister of Foreign Affairs Gebran Bassil speeches on Syrian refugees). G. explained that there is resentment against Syrian refugees in the host community for various reasons including the blame they receive for the high unemployment rate in Lebanon, due to the cheap labor Syrian refugees offer. In addition, some municipalities have endorsed curfews against them for "security reasons." On a personal level, G. clarified, there is very little communication between her as a WHRD and the Lebanese community, as she feel that the Lebanese can not accept that the lives of some Syrians are improving while there is high unemployment.
Under the January Residency Regulations 2015 in Lebanon, Syrian refugees applying to renew their residency permits are split into two categories: those registered with the UNHCR and those who are not must find a Lebanese sponsor to remain in the country legally. The cost of renewing a residency is around $300- $100 for issuing the documents and $200 for a sponsor. For those who have not renewed their residency and are still living in Lebanon, an extra $200 per year is added as a fine.
The position of many Syrian WHRDs who have become refugees' in Lebanon becomes riskier, and their mobility much more difficult, if or when their residency The risk of arrest due to expired papers thus creates additional obstacles to working with refugee communities across Lebanon, with Lebanese organizations, and with defending human rights in general. The fear of arrest and its reprisals also leave many WHRDs vulnerable to abuse and exploitation.
Furthermore, due to legal, social and economic hardships that Syrian WHRDs face, survival becomes a priority. For many refugee WHRDs, as breadwinners of the family, the struggle to ensure the basic needs for living in the host country may interrupt their work as WHRDs or make it much more challenging. In addition,
Another pressing issue for WHRDs living in Lebanon is that Syrian activists setting up Syrian–led initiatives in Lebanon report restrictions on their activities.  Syrian refugee activists and WHRDs are not permitted to register officially as NGOs or to open bank accounts. The law also dictates that 4 out of 5 staff member of any organization must be Lebanese for an organization to be registered. Such a procedure poses a risk to many Syrian community organizers and WHRDs.  G. explained that "a Syrian organization working on peace process and peace building must have all its member Syrians as they understand what's going on." Yet Lebanese law restricts the scope of their work within the Syrian community. Some organizers resolve this obstacle by partnering with Lebanese NGOs or by registering under the names of Lebanese activists. However, this tactic limits their managerial and financial control.
Describing her own situation, G. explained that her neighbors and community are not aware of her role as a WHRD working with vulnerable women and girls. They only know that she works as an English teacher and nothing more. When asked why she does not talk more about her work, she replied that it is easier that way. Her family are very supportive of her work and encourage her however not all WHRDs have supportive families like Weams.  Many Syrian women, by hiding their activities as WHRDs better able to do their work without their family's or communities disapproval. The fragile situation of refugees create an atmosphere where the risk of being sent back to Syria is a threat that discourages the families of WHRDs families from accepting their work. Additionally, the stigma associated with being a woman who is an outspoken defender of human rights in the public sphere could be a further reason why a WHRDs family might disapprove of her work.
Whether in Syria or in neighbouring countries to which they have fled from war, WHRDs risk and often face gender based violence. Many WHRDs in host countries are in situations where they are fighting for basic human rights and means of living for themselves and their families while simultaneously taking part in community initiatives. Violence is used to control, coerce women and destabilize their relationship within the family and community. WHRDs need protection mechanisms as they fight for human rights in conflict zones, but also as refugees living and working in Lebanon, Jordan or Iraq. WHRDs also need mechanisms that unite them and allow them to exchange experiences and resources.
As bleak as the future may seem, WHRDs must be integrated into
the peace-building agenda. As one Syrian WHRDs concludes:
"We are in a very critical time in the history of Syria- if women are absent while making the materials of constitution we will be absent in all kind of participation. We need to work now. We are here and suffering because we didn't have a role in the political and economical life before- we didn't make decision related to us."