Tunis International Feminist Art Festival: "Chouftohonna"
On May 2016 Tunis witnessed a huge gathering of feminists, activists and artists attending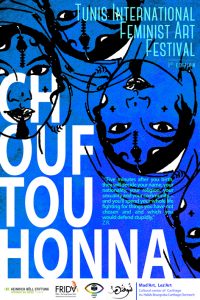 the second Edition of Chouftounhonna International Feminist Art. The three-day Festival welcomed artworks in different fields of film, theater, sculpture, music, photography and graffiti and also held several workshops. 90 artists from 37 countries attended and thousands visited.
Chouftounhonna is an initiative of Chouf Minorities, a feminist organization for women and sexual minorities in Tunisia which struggles to "allow Tunisian women, and sexual minorities, a safe environment in which they can express themselves freely and work on developing their potentials."
The festival, according to its organizers, originates in a small task force of women who have challenged the accessibility of art and culture for women and sexual minorities in Tunisia, the region and around the world. As a response to that, these women tried to create a unique opportunity for their sisters to share their perspective through art.
"Far too many women in too many countries speak the same language: Silence"
This was the theme of this edition of Chouftounhonna festival which is a quote from an Indian historian, Anasua Sengupta.
The Coalition conducted an interview with Bochra Triki, a member of Chouf Organization and one the organizers of Chouftounhonna festival which comes as follows:
How did the Chouftouhonna start at the beginning?
The festival started in 2015. The initiative was at first to create a space for Tunisian women artists and amateur where they can meet and show their work. We made a call for participation and we were really surprised to see that many international artists showed interest to the festival. We decided to open the borders and to do it international. This year, we had around 40 artists from all around the world that came to chouftouhonna. it was amazing to see all this solidarity and all the exchanges that happened on that 3 days.
The theme of this edition of the Festival was « Far too many women in too many countries speak the same language: Silence », can you explain about this theme and why did you chose it?
It's a quote from an Indian historian, Anasua Sengupta (we realized after that Hilary Clinton used it in a speech, it wasn't our first inspiration!
I think this quote resume what we try to fight with chouftouhonna, all the social taboo that exists around women in life but also in art. We try to give visibility but also a voice to women artists and activists without censorship.
How was women's participation in the Festival this year?
We had around 90 artists that showed their artwork at chouftouhonna in all categories (cinema, plastic art, graphic art, photography, music, theatre), around 40 artists came from another countries and met Tunisian artists. We had also many activists that talked in two panels. The public was mainly women but a lot of men came and were interested by the festival. The team and volunteer was formed by women and trans, also the DJs that played in the two after. It was amazing to see all these women living, working, debating together in a safe environment
Why in your idea holding a feminist festival important in our region?
I think it's important because it gives a new way to express feminism and activism in our area. For example, we discovered movies about and made by women from many countries and different cultures. It helps opening a dialogue with media, public or artists that are not usually interested by feminism. It puts completely different women in contact.
How did you tackle the issues of LGBT community in Chouftouhonna Festival and how people reflect to it?
Lots of our participants are from the LGBT community and lots of them are talking about their issues in their artwork. With art, we can give a positive visibility to a community that is oppressed in our region and helps creating a constructive debate around it
Can you tell us about next year plans for the Festival (if it is already decided)?
We are still talking about how will be the next edition, it will depends on many factors like funds, partners, places…. but we are already wishing to do it for more than 3 days, and in more than one place to increase the visibility and to enjoy the experience.