Women Human Rights Defenders and Judicial Harassment in the MENA Region
Judicial Harassment refers to any kind of act that limits WHRDs' work by the force of law and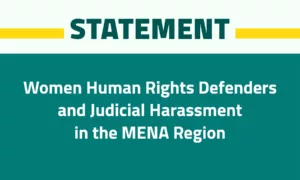 pressures them in different ways of summoning, interrogation, travel ban, property seizure, asset freeze and imprisonment.
During the recent months several cases of judicial harassment have happened in different countries in MENA in which woman human rights defenders have been trialed, sentenced and banned from traveling.
In Bahrain on 22 June 2016, Ghada Jamsheer, the President of the Women's Petition Committee (WPC), was sentenced on appeal to one year in prison by the Second High Criminal Court for four cases regarding her criticizing alleged corruption at King Hamad hospital on social media. She was also fined 10,000 dinars (approx. USD$26,500) for alleged defamation of the management of the hospital, headed by a member of the ruling family.
The Women's Petition Committee is a network of Bahraini women human rights defenders who campaign for the codification of Bahrain's family laws and their reform. Jamsheer who is also a writer and blogger, has been banned from Bahrain national media since 2005. Her online blog Bahrain-eve has been blocked in Bahrain since at least 2009.
The process of judicial harassment against Jamsheer began on 14 September 2014 base on ten complaints filed by different individuals against her. She spent two month and half in detention, released on 27 November, rearrested within few hours and released again on 15 December 2014.
Since September 2014, twelve criminal cases have already been brought against Ghada Jamsheer. On May 5, 2015, the Bahrain High Criminal Court sentenced her to a one year prison term, suspended for three years on charges of "assaulting a police officer". Prosecutors alleged the event to have taken place during her time in detention in September 2014. No sufficient evidence that she attacked the policewoman has been presented in support of the claim, and the accusation is refuted by her lawyer.
Ghada Jamsheer was detained on August 15th, 2016 in Bahrain International airport right after she arrived from London. She was transferred directly to the Issa Town Detention Centre. Ghada was kept in prison for four month despite her poor health condition and finally released on December 12th based on an agreement with Bahrain judiciary that she would carry out the rest of her sentence working at a government-appointed job in lieu of serving four more months in prison. She was released afterwards.
Zainab Al-Khawaja, Bahraini prominent woman human rights defender, forced to flee her homeland after she released from prison and was immediately threatened again with detention.
Al-Khawaja has been imprisoned repeatedly over the last five years, including most recently on 14 March 2016 to begin serving combined sentences of over three years. She spent more than three months in jail along with her one year old son. She was released on 31st May on "humanitarian grounds" and was threatened that she must leave the country with her children or risk being imprisoned indefinitely. Al-Khawaja was threatened that if she didn't leave immediately then she will face new cases with lengthy sentences that would result in her being separated from both her children.
She wrote on her twitter account @angryarabiya her feelings about being forced to leave Bahrain: "The regime that thinks exile means moving us away from our land should know, we carry Bahrain in our hearts wherever we go."
In Sudan the National Intelligence and Security Services arrested two WHRDs: Arwa Al-Rabie, director of Al-zarqa Rural Development Organization and Imany-Layla Raye, a volunteer from Cameron, on 22 May 2016 along with six Center for Training and Human Development (TRACKS).
The activists have been summoned to the Office of the Prosecutor for Crimes against the State for charges filed against them by the National Intelligence and Security Services, and been arrested at the moment until further investigations take place. The WHRDs are being kept under guard in the reception area of the NISS prosecutor's office during the day and sleep in one of the offices in the premises at night. The conditions of the prison are unsanitary, lacking water and electricity and their visit is only allowed upon permission from the prosecutor.
All the detainees have not been informed of the reasons for their arrest and have yet to be charged. Their lawyer has only had access to the two women and spoken to them but has not spoken to the six men. Al-Rabie and Iman Layla, were released late on May 30 on bail, but others remain in limbo inside the prosecution office. The prosecution process of Arwa and other TRACKS members is ongoing.
The attack on Sudanese civil society and human rights defenders has been intensified in the last three years. Several civil society and cultural centers have been closed and the activities of NGO's working to promote human rights in the country have been restricted largely.
Arwa Al-Rabie, lawyer, musician and human rights defender also known for her cultural activities including documenting the work and lives of women musicians and artists in Sudan, used to work at the now-shut down Al-Khatim Adlan Center for Enlightenment and Human Development (KACE) before moving to TRACKS in 2013. She witnessed NISS raid her offices several times, at KACE and TRACKS. She faced long periods of interrogation, was intimidated and threatened and her phone has been bugged for long periods of time.
But in Egypt the judicial harassment against women human rights defenders and civil society activists have been escalating prominently. The case no.173, known as case on foreign funding of civil society, prosecutes WHRDs, limits their activities and banned their access into the public sphere.
In the latest event Interior Ministry passport control officers at Cairo International Airport stopped Mozn Hassan, the director of Nazra for Feminist Studies, from boarding her flight to Beirut to attend the executive meeting of the Coalition of Women Human Rights Defenders in MENA Region.
On 21st July 2016 in a  letter to the Egyptian president, Abdel Fattah al-Sisi, women human rights defenders in the Middle East and North Africa, civil society organizations, NGOs and INGOs urged the Egyptian government to Revokes arbitrary measures such as travel bans on Mozn Hassan and other human rights defenders immediately, drops all charges against Nazra and all defendants of the case 173, establishes a mechanism to ensure the safety of women human rights defenders in the country. It should ensure a safe environment for women human rights defenders to work in, including working without any judicial harassment and the fear of reprisal and ensures that domestic legislation is in conformity with the Declaration on human Rights Defenders.
The pressure on Mozn Hassan and Nazra flared up a huge international campaign of solidarity. Human rights defenders from all around the world stood to protest the unjust prosecution of Mozn and Nazra. But despite all the activities, the North Cairo Elementary Court decided to freeze the assets of Mozn Hassan and Nazra for Feminist Studies on January 11th, 2017.
In Tunisia human rights defender Lina Ben Mhenni has been ordered to report to the police station on June 30th, 2016 regarding her complaint filed in 2014 when members of the State Security verbally and physically assaulted her. Ben Mhenni was interrogated at the police station in front of some of the alleged attackers that was abusing her verbally despite the presence of six police officers.
Lina also received a summons to appear before the Medenine's Court of First Instance in Djerba on 19 September 2016 for further questioning on a charge of insulting a police officer.