Free Khalida Jarrar and Khitam Saafin Now!
Khalida Jarrar was again arrested by Israeli occupation forces, previously released in June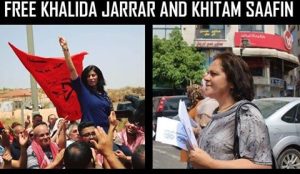 2016 after serving 14 months in an Israeli jail, in a pre-dawn raid on her home. Also targeted was Khitam Saafin, the coordinator of the Union of Palestinian Women's Committees. Both have been taken to Hasharon prison.
Khalida Jarrar is a Palestinian politician and a member of the Palestinian Legislative Council, who was arrested by the Israeli occupation in 2015 on charges of participating in building a support network for Palestinian prisoners and for resisting apartheid. & Khitam Saafin, feminist activist and President of Union of Palestinian Women's Commites who is a member of the Regional Coalition for Women Human Rights Defenders in Middle East and North, and a member of the General Union of Palestinian women, is related to the waves of mass arrests executed by Israeli authorities against human rights defenders in which they have arrested several Palestinian civilians during raids in Ramallah and Al Bireh on Sunday.
The Israeli Forces have previously launched several campaigns against human rights defenders. It appears that the arrest of Jarrar and Saafin is only the beginning of a new wave of mass arrests targeting activists in Jerusalem, where more than 15 Palestinian citizens and 3 women activists were arrested because they were 'terrorist' suspects and 'were planning on taking violent and direct action against Israelis' even though they didn't possess any weapons. The random raids occurring today are merely a continuation of the previous mass arrests that started in the West Bank.
In addition, Israel has committed flagrant and persistent violations of international human rights law along with human rights ratifications and conventions, as a part of a systematic policy followed by Israeli forces, such as: the assault on the right to life, field executions under the pretext of 'terrorism', restricting freedom of expression and attacking journalists and bloggers.
The Regional Coalition for Women Human Rights Defenders in Middle East and North Africa calls for the immediate release of Khalida Jarrar and Khitam Saafin, prominent Palestinian progressive and feminist leaders and human rights defenders committed to the freedom and liberation of their people. The arrests of Jarrar and Saafin clearly come as an attempt by the Israeli occupation to attack Palestinian human rights defenders and suppress them through fear, arrests and intimidation carried out by a massively armed occupation force. We condemn the arrests of Khalida Jarrar and Khitam Saafin are attacks on political expression and a blatant assault on the Palestinian women's movement.
We stand in solidarity with Khalida Jarrar and Khitam saafin as peaceful women human rights defenders and demand their immediate release. We call out on international and regional organizations to stand support them and hold Israeli accountable for its violation of international human rights laws.