Bahrain: We Demand the Immediate Release of #WHRD Ebtisam Al-Saegh
On the 3rd of July 2017, Bahrain security forces arrested without warrant WHRD Ebtisam Al-Saegh following a raid on her home. The authorities have previously detained Al Saegh last month where she was subjected to torture, physical and sexual assaults in al Muharraq police station.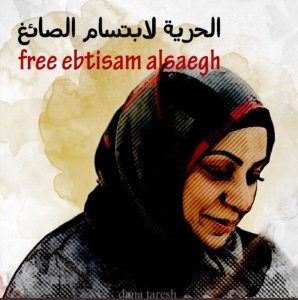 On 3 July, five civilian cars and a bus arrived at the defender's home, following which masked officers in plainclothes raided the house and arrested her without presenting a warrant. Her family reported that all those raiding the home were wearing masks, body cameras, and eapons. On 4 July, inmates at Isa Town Women's Prison reported seeing Ebtisam Al-Sayegh injured following her interrogation. She is currently held in an unknown location.
On the 3rd of July, Al Saegh's home was surrounded by five civilian cars, following which masked officers raided the houses and arrested her without warrant. Her family said that the officers carried several weapons. On the 4th of July, according to Front Line Defenders, inmates at Issa Town Women's prison reported seeing Al Saegh injured following her interrogation.
Ebtisam Al Sayegh is a WHRD working on documenting human rights violations in Bahrain and she has been targeted before for merely being a WHRD. On 12 June 2016, a day before the 32th regular session of the Human Rights Council, the Bahranian authorities banned Al-Saegh and several human rights defenders from travelling. None of those banned knew that the authorities took that decision until they arrived to the airport. Al Saegh's travel ban was a direct response to her work on documenting human rights violations.
On 22 Jan 2017, the Bahranian police summoned Al-Saegh for interrogation. The interrogator asked the defender about her activities regarding human rights, including her statements regarding the latest executions in Bahrain, and her warned her about crossing a 'red line'. The Public Execution office also threatened her. The interrogator said that he would charge her family members and relatives if she refused to cooperate with them. She was released later on.
On 25 May 2017, Al Saegh received a phone call from the National Security Agency and asked her compliance at the National Security Compound. Once she arrived on 25 May, the security men blindfolded her and took her to a place where was subject to mental and physical torture for more than 7 hours. Al-Saegh said she was beaten up and wasn't allowed to sit, and that the officers hit her nose and stomach after he knew that she recently underwent a surgery. She was also subject to sexual assaults and they threatened to kill her son. The Bahrain security forces interrogated her regarding the government attack against peaceful protestors in 23 May, and whether or not she was connected to human rights defenders. The authorities told her that she will be targeted if she doesn't stop her 'human rights activities'. She was then released at night and was transferred to a near hospital because of her inability to walk.
During the weeks before her torture and interrogation last month, Al Saegh was among the key factors of civil society in Bahrain that were subject to harassment and intimidation, in a blatant campaign led by the Bahranian government. In 15 May 2017, the Bahranian news agency released a statement that accuses Al-Saegh of fabricating false news about human rights violations in Bahrain.
The arrest of Ebtisam Al Saegh comes after a month of her documenting what she went through (torture, sexual and physical assault) which put her in danger of going through that again. Especially that Bahrain have promoted a campaign against human rights defenders in the past few months.
The arrest of Al Saegh is another example of what women human rights defenders go through. Bahrain authorities' acts again Al Saegh are a vengeful response to Al Saegh's work.
Therefore, the Regional Coalition for Women Human Rights Defenders in Middle East and North Africa call the authorities in Bahrain release Ebtisam al Saegh immediately and unconditionally, and to put a final end to harassments against Al Saegh, including threatening her family members. We also remind Bahrain's government that the arrest of Ebtisam Al Saegh violates its commitment to human rights laws and international treaties, agreements and conventions it previously ratified. The arrest of WHRD Ebtisam Al Saegh is nothing but a clear attack on those who remain peacefully seeking ways to implement democracy and protecting human rights in Bahrain and we should defend them and demand their freedom.