Saudi Women Reclaim Their Right to Drive!
On September 26, 2017, Saudi Arabia approved the long-awaited right of women to drive. This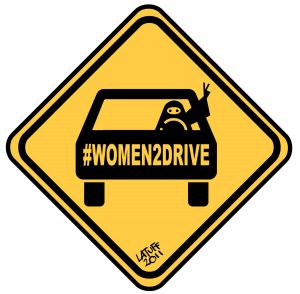 came in a royal decree signed by King Salman bin Abdul Aziz al-Saud, confirming the activation of the resolution as of June 2018.
Allowing women to drive is the first step in dismantling the virtual prison built by the Saudi authorities to prevent women from being present in public space by restricting their freedom of movement. This came after years of work, lobbying and campaigning by WHRDs and activists in Saudi Arabia, who faced imprisonment and defamation.
In June 2011, around 40 women drove their cars in several cities in Saudi Arabia to express their anger following the arrest of Manal al-Sharif, one of the organizers of the 'Women to Drive' campaign, as she was filming herself in a video driving her car. By 2013, more than 60 women had driven their cars after a Saudi cleric said, "Scientific studies have shown that driving hurts women's uterus." The authorities then banned the assembly of the protestors and accused them of "disrupting public order."
In December 2014, Loujain Alhathloul challenged the ban. She tried to drive her car from the United Arab Emirates to Saudi Arabia and was detained for 73 days.
The Saudi WHRDs reclaiming their right to drive is an important achievement and an additional step towards the abolition of the male guardianship system, which is the biggest obstacle faced by women, impeding their daily work and life, in terms of their right to move, work and live alone, and get out of prison and access to health care without Parental consent.