Solidarity with Nubian WHRDs & Detained Peaceful Demonstrators
On Sunday 3/9/2017, dozens of Nubians had set out on a peaceful singing march in the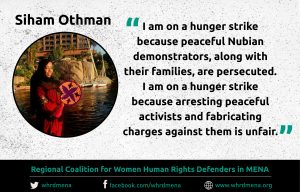 Upper Egypt city of Aswan demanding their constitutional right to return to their ancestral land around an Aswan High Dam lake, which is guaranteed by article 236 of the 2014 Egyptian constitution. The march was dispersed by security forces through violence and random mass arrests. 24 protesters were detained and charged with taking part in an illegal protest and blocking public roads.
Nubian WHRDs and feminists are on an open hunger strike protesting the unjust arrests of 24 peaceful demonstrators by Egyptian authorities. Nubian WHRDs & feminists are defending their right in demonstrating against forced displacement and to condemn systemic oppression used by Egyptian government against Nubians. Nubian WHRDs have released a statement
Siham Othman is among the aforementioned WHRDs. Siham Othman is a young prominent Nubian feminist activist, who is currently running for the presidency of the General Nubian Union after months of calling for the Nubian women's participation in their local political sphere, who was elected as the first woman vice president for the Nubian Union five years ago. In addition, she co-founded the Free Southern Woman for Development also known as Ganoubia Hora Foundation for Development in 2011, a feminist collective aimed at empowering Nubian women, which is also a member in the Regional Coalition for Women Human Rights Defenders in MENA.
In order to protect Siham Otham and support her courageous work, the WHRDMENA Coalition is
relying on the support of international human rights organization to remind Egyptian authorities that the international Covenant on Economic, Social and Cultural Rights was ratified by Egypt on January 14, 1982. The Covenant underlines the right of recognition to various cultural groups, which means that Egypt ought to recognize Nubian rights and struggle for land through:
-Contact different embassies about the situation, especially the Egyptian embassy, in order to put pressure on the Egyptian authorities to release the peaceful detainees and cancel the arrest warrant issued against WHRD Siham Othman.
-Co-Write a statement to condemn the violent attack against peaceful Nubian activists and to support WHRD Siham Othman.
-Contact the European Union and take all steps needed to protect Siham Othman from any further attack.
-Advocate on social media with Nubian activists using this hashtag: #FreeNubianDetainees.
-Sign this petition https://goo.gl/NGX6V9