#SheDefends Launching Statement: Long Live the Struggle of WHRDs!
Long live the struggle!
25-11-2017
The #SheDefends campaign launches this year in the light of regional and international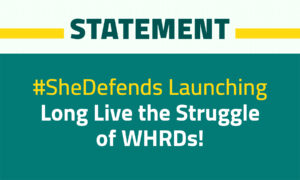 political and economic turmoil, and in the light of the suppression practiced in unison by regional authorities. The #she_defends campaign stresses that the battles fought by WHRDs to exist in the general realm of the Middle East and North Africa are still ongoing, and despite endless attempts to silence and intimidate them, WHRDs have managed to stand firmly as defenders against tyranny and suppression.
Since the launch of our first campaign last year, WHRDs were subject to countless violations, cruel campaigns, violence, torture, and even murder. In Egypt, the assets of internationally celebrated WHRDs Mozn Hassan, Director of "Nazra for Feminist Studiest" and lawyer Azza Suleiman, head of the board of trustees of the "CEWLA"were frozen. They were also forbidden from travelling, along with a number of WHRDs from the "Nadim Center for Treatment and Rehabilitation" – a center which was shut off with red wax. All of this came along with Sisi's approval of a law that facilitates governmental control over associations and organizations of civil society, hence reducing the realm of public spaces accessed by WHRDs.
We then arrive to the arrest of WHRD Sara Hijazi for raising the rainbow flag at a concert and the subsequent launch of a targeting campaign chasing the most vulnerable and violated population. Additionally, a number of Nubian activists were arrested on the grounds of peaceful protest, demanding their educational rights, and Nubian feminists' facing of authorities through a partial hunger strike that lasted more than two weeks. In Palestine, WHRD Khitam Seafin was arrested and detained in Israeli prisons for over than a month because of her feminist activism. In Morocco, rural activism led to the arrest of over 40 activists, including WHRD Silia Zeyani whose rights to a fair trial were never met. Not to mention that Bahraini WHRD Ibtisam Sayigh was subject to all forms of violence due to her fight for human's rights and the fact that she was a woman.
Everything mentioned above and more paints a thorough picture of what WHRDs constantly go through for battling against human rights violations. They suffer this at the hands of both tyrannical authorities and patriarchy working hand in hand.
Despite the restraints that authorities place in the name of fighting terrorism and maintaining national safety – which grant them the legitimacy to criminalize the fight for human rights – WHRDs have gained many victories. In Saudi Arabia, women have regained their right to drive after decades of fights and risks taken by WHRDs. Additionally, thanks to the pressure exerted by WHRDs, Khitam Seafin, Ibtisam Sayigh, and Nubian activists have been released. And the fight for justice continues.
WHRDs have triumphed on multiple occasions and we must acknowledge their efforts and the vital role they play in protecting human rights, as well as hold authorities that use systematic violence against them accountable, and protect and support them to emphasize that defending human rights is never a crime!