Solidarity with Women Human Rights Defenders in Sudan
Arrests of WHRDs because of peaceful protesting against Sudanese government's arbitrary policies
Sudanese security forces used violence and force to disperse peaceful protests in various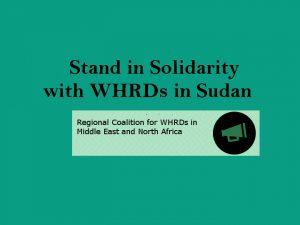 cities that protested government austerity measures and arrested dozens of human rights defenders and women human rights defenders.
Timeline:
On the 10th of January, Sudanese authorities directed their forces to attack a vigil held by "No to Women Oppression Initiative" and arrested more than 10 WHRDs including: Ihsan Fakiri, director of the initiative, Najla Nurin, Rashida Shamselddine, and Ihsan Kzam. The authorities released them after five hour of detention. However, they were summoned on a daily basis to the security offices even since their arrests, along with WHRD Ihsan Abdelaziz who have been going to security offices, on a daily basis, since 12th of December 2017.
On the 16th of January, Sudanese authorities arrested more than 100 protesters Most of them were released after more than 9 hours of detention, with the exception of WHRDs: journalist Amal Habbani, who is an internationally acclaimed WHRD who won the "Ginetta Sagan Award" due to her work in promoting equality and justice for women in Sudan, and  the Director of "Sima For Training and Prrotection of Women and Children's Rights" Nahed Jabrallah. Jabrallah is currently in poor health, suffering from a fracture in her leg and hand. The Coalition have received a lot of reports stating that Amal Habbani had been tortured during interrogation.
On the 17th of January, the authorities arrested Heba Dafallah, nicknamed "Abouni", a student at al Ahfad University along with WHRD Mahdiya who was arrested for a day from the Omdurman demonstrations.
The Regional Coalition for Women Human Rights Defenders in the Middle East and North Africa condemns the Sudanese authorities' mass arrests of WHRDs and violating their rights to protest peacefully. We demand the authorities to release all detained WHRDs immediately and unconditionally, and to stop random summoning of WHRDs to security centers and juridical harassments.
In addition, arbitrary arrests of peaceful protestors are contrary to the Sudanese Constitution which affirms the Government's commitment to respect human rights set out in international agreements, covenants and conventions ratified by the Khartoum governments as an integral part of the constitution.
The Regional Coalition for Women Human Rights Defenders asks international and regional human rights organizations to stand in solidarity with WHRDs in Sudan through:
1- Increasing coverage of arrests and abuses against WHRDs as mainstream media's oblivious manner and obscurantism impede the advocacy work currently needed by women human rights defenders in Sudan.
2- Demanding Sudanese authorities to immediately release women human rights defenders through contacting with Sudanese embassies.
3- Calling on regional and international organizations to issue solidarity statements with women human rights defenders in Sudan.
Background
Sudan has witnessed demonstrations in a number of areas in protest against the austerity measures taken by the government, which led to an increase in the prices of basic commodities, especially bread. The protests are called "bread demonstrations". It began sporadically on the 1st of December after the government approved the 2018 budget, which lifted allocations on flour and electricity and devalued the local currency.
Demonstrations and protests are led by progressive parties, civil society organizations and Sudanese feminist groups and women's rights organization. The "No to Women Oppression" initiative has fully supported peaceful movements, they have declared in a statement released on Jan 11 that "the silence is no longer possible. Women pay for the wars waged by the regime. The regime did not stop at the "campaigns of backwardness" against the people of Sudan using religious extremism and ethnic persecution, but it also put the citizen in the "grinding machine of expensiveness". Demonstrators shouted slogans condemning the budget of 2018, which doubled the price of bread doubled and other commodities. They also shouted "Peaceful against the thieves" and "Bamban (tear gas) a cowardly weapon." They also demanded the departure of the ruling regime in Sudan. "