Saudi Arabia: Women Human Rights Defenders Accused of 'Treason'.
Since 15 May 2018, Saudi authorities arrested at least 7 women human rights defenders whose work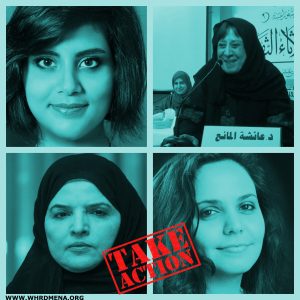 was prominently focused on reclaiming women's right to drive, just few weeks before lifting the long-standing ban on women. The WHRDs have been identified as:
Eman al-Nafjan, Loujain al-Hathloul, and Aziza al-Yousef. Saudi authorities also arrested
 Aisha al Manea, who was released on the 23rd of May, and 
 Hessah Al-Sheikh, Madeha Al-Ajroush, and
Walaa Al-Shubbar who released on the 24th of May.
The Saudi authorities said, following at least a 24-hour silence, that they have arrested individuals in an official statement release by the Security spokesman for the Presidency of State Security.  He stated that the detainees are being investigated for communicating with "foreign entities," working to recruit people in sensitive government positions and providing money to foreign circles with the aim of destabilizing and harming the kingdom
The arrests were accompanied by a public defamation campaign by the Saudi authorities and  pro-government media to undermine the work of women human rights defenders. Pictures of the WHRDs were circulated on social media and in newspapers in which they were described as "traitors." Over 500 fake troll accounts on twitter  branded their pictures with red "traitors" stamps. In addition, there was a recurrent use of misogynous language, terms, and slurs used to insult the WHRDs in order reduce the importance of their presence and role in the public sphere, in an attempt to erase the work of women human rights defenders which has been an ongoing ten years of struggle for a better life for women and Saudi society in general.
Detained WHRDs are not traitors, and have only aspired to reclaim the rights of Saudi women. Their activism for human rights and women's rights benefit women, Saudi society and the Arab world more than the "delusional reforms," and reaffirm the struggles of women human rights defenders in Saudi Arabia.
Iman al-Nafjan is known for her dedication to defending and protecting human rights. She is a blogger who was one of the leading campaigners for the right to drive. She was classified as one of the 'Leading Global Thinkers' in 2011. She was arrested in October 2013 for recording a video of a woman driving and breaking the ban.
Aziza al-Yousef is a leading advocate for the right to drive and to end the male guardianship system in Saudi Arabia. She led a campaign to end male guardianship and submitted a petition to King Salman Ben AbdelAziz which carried more than 147000 signatures. She also challenged the travel ban, along with Eman, in Riyadh.
Loujayn al-Hathloul is a prominent WHRD who has been constantly targeted by the authorities. In 2014, she was arrested for 73 days for driving her car in a rightful challenge against the Kingdom's ban on women. She tried to enter KSA through the Emirati borders. In June 2017, she was arrested without any charges in Dammam airport. Loujayn is the first women that requested to run for elections, even though the authorities did not list her name among the candidates. She was mentioned as one of the Strong Arab Women Under 40 on Arabian Business list in 2015.
Previously detained Aisha al-Maneaa is woman's rights advocate and defender, has also campaigned for women's right to drive in Saudi Arabia since the early 1990s. She participated in the first women demonstration for the right to drive in 1990, where 47 women were detained, stripped of their passports & lost their jobs
Hessah Al-Sheikh, Madeha Al-Ajroush and Alaa Al-Shubbar have been advocating for women's rights and affirming their rights to exist as WHRDs in the public sphere for the past decade.
These arrests come just 6 weeks before Saudi Arabia is set to lift the world's only ban on women's right to drive. When Saudi Authorities issued the royal decree last year to allow women to drive in 2018, the royal court contacted at least two dozen activists instructing them not to comment on the decree. Some of those arrested this week nonetheless continued to speak out.
The arrests also contradict the reformist attempts by Crown Prince Mohammed bin Salman, who is trying to show a more "progressive" image of Saudi Arabia. His reforms, though, have also been accompanied by a crackdown on women human rights defenders, including those who have been arrested, in order to avoid recognizing their work and their success, instead of rewarding them for what they have achieved for their community. Recognition of the work of women, specifically WHRDs, is forbidden under systematic repression and is contrary to the Saudi strategy of improving its international image. How can reform be accompanied by continued repression, harassment and targeting of women human rights defenders? How does Saudi Arabia win a seat on the United Nations Commission on the Status of Women and there are at least WHRDs behind bars accused of "treason" simply because they wanted to reclaim women's rights and the protection of human rights in Saudi society?
We at the Regional Coalition of Women Human Rights Defenders in the Middle East and North Africa are in solidarity with women human rights defenders in Saudi Arabia.
We also call on the Saudi authorities, and immediately:
– Release all women human rights defenders and ensure their physical and psychological integrity and pledge not to harass them in any way
– Disclose the details of the investigation, including the grounds on which charges were brought against women human rights defenders
– Stop pursuing women human rights defenders and recognize their fundamental role in Saudi society, including their success in reclaiming women's right to drive
The Coalition also demands the:
-The Economic and Social Council of the United Nations (UN) suspends Saudi Arabia's membership in the UN's Commission on the Status of Women (CSW). The arrests and prosecution of WHRDs makes it clear that Saudi Arabia has no place in the Commission and that its seat does not comply with the oppression of women and WHRDs.
-The UN's General Assembly (GA) to suspend Saudi Arabia's membership in the UN Human Rights Council (HRC). A two-thirds majority of the GA may suspend the membership rights of any HRC member engaged in "gross and systematic violations of human rights." Detaining WHRDs, accusing them of serious charges without any legal basis and stripping them from their basic human rights in detention–are gross and systematic violations of human rights.
Let the WHRDs know that they are not alone – by adding your voice to this petition asking Saudi Arabian Authorities to #ReleaseSaudiWHRDs.
It is time to hold Saudi Arabia accountable!
Updates:
-On May 23, Saudi authorities released Dr. Aisha alManea in unknown conditions.
-On May 24, Hessah Al Sheikh, Madeeha Al-Ajroush and Walaa Al Shubbar were released in unknown conditions.
-On May 31, the #EuropeanParliament  adopted a resolution which condemned the ongoing repression of human rights defenders, including women human rights defenders in Saudi Arabia 'which undermines the credibility of the reform process in the country'. The adopted resolution called on the Saudi authorities to put an end to all forms of harassment, including at judicial level against human rights defenders, including WHRDs Eman alNafjan, Aziza al Youssef and Loujain alHathloul and to immediately and unconditionally release all human rights defenders. Read it here.