Egypt: End Persecution of WHRD Mozn Hassan
On Monday (18 June), the investigative judge for Case No. 173, known as the NGO Foreign Funding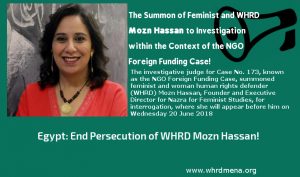 Case, summoned WHRD Mozn Hassan, Founder and Executive Director for Nazra for Feminist Studies, for interrogation, where she will appear before him on Wednesday 20 June 2018 at New Cairo Court in Fifth Settlement District.
Since 2016, the Egyptian authorities have been targeting Mozn Hassan for her peaceful activism relentlessly. In March 2016, three members from Nazra for Feminist Studies were summoned to appear before the investigative judge on 22 March, after which Mozn Hassan was summoned to appear before him on 29 March 2016. The investigative judge later said that he will summon Mozn Hassan at another time. On 26 June 2016, the passport administration at Cairo International Airport banned her from travel while she was processing her departure from Cairo. In January 2017, the North Cairo Elementary Court froze her personal assets and those of the association, Nazra for Feminist Studies. This verdict was also issued in accordance to a request by the investigative judge within the same case referred to above. Nazra for Feminist studies is the first association to have its assets frozen in the history of civic associations working on women's human rights. The asset freeze forced Nazra to bid farewell to its office.
Mozn Hassan plays a key role in the work of WHRDs to improve the situation of women in Egypt and in the region. She has been working on several women's issues since 2001, including violence against women in the public sphere, providing psychological, medical and legal support services for survivors, and supporting the political participation of women in Egypt and the Middle East and North Africa. Mozn Hassan is a recipient of the Charlotte Bunch Women Human Rights Defenders Award in 2013, and recipient of the Right Livelihood Award (RLA), known as the Alternative Nobel, which she and Nazra for Feminist Studies were awarded with in 2016 for combating violence against women in the public sphere. Mozn Hassan 's contribution to coordination, collaboration and networking among women's rights group and initiatives in several districts in Egypt is also very significant. Hassan's achievements demonstrate her commitment to peaceful activism, which aims at improving women's situation in Egypt, especially since the issues that Mozn Hassan has worked on expose gross human rights violations and shed light on the horrid reality faced by women in Egypt.
Mozn Hassan is also a part of the Regional Coalition in which she volunteers as a regional expert. It is due to Mozn's tireless efforts in guiding and inspiring WHRDs and organizations that the Coalition is what it is today.
Mozn Hassan continues her fight in defending human rights on a daily basis without hesitation despite risks and intimidation. She has succeeded, in several contexts, in protecting hundreds of WHRDs through solidarity,providing important services and protection. The summoning cannot be seen as anything but a continuation of the systematic persecution of Mozn Hassan and Nazra for Feminist Studies, and as an act of reprisal for her belief in the state's ability to undertake necessary reforms for women in Egypt.
The Regional Coalition of Women Human Rights Defenders in the Middle East and North Africa considers the vicious attack on civil society in Egypt, especially that the summon of WHRD Mozn Hassan comes right after Dr. Magda Adly's summon (co-founder of El Nadeem), as a systematic strategy to criminalize the defense of human rights and women's human rights, and to paint WHRDs as criminals in order to delegitimize their work. Mozn Hassan's work is legitimate and legal, as all of Nazra's activities are legal and public. Nazra is a legally registered association and has the Economic and Social Special Consultative Status with the UN since 2014.
The Coalition is proud to have Mozn Hassan as the Coalition Regional Expert and stands in solidarity with Mozn Hassan and Nazra.
Thus, the Regional Coalition demands the Egyptian authorities to:
-End all legal persecution of WHRD Mozn Hassan.
-Drop all charges against Mozn Hassan.
-End the vicious crackdown against WHRDs that only aims at shrinking feminist and women's spaces in Egypt.