Ongoing Crackdown in Saudi Arabia with New Arrests
Saudi Arabia has continued its crackdown against women human rights defenders, with reports of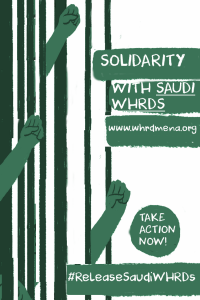 another leading WHRD and academic arrested.
Hatoon Ajwad al-Fassi, a prominent woman human rights defender, a professor of women's history at King Saud Univerity, & a writer at the Riyadh paper was arrested on Wednesday according to several reports.
Since 15 May 2018, Saudi authorities arrested at least 7 women human rights defenders whose work was prominently focused on reclaiming women's right to drive, just few weeks before lifting the long-standing ban on women. The WHRDs have been identified as: Eman al-Nafjan, Loujain al-Hathloul, and Aziza al-Yousef. Nouf Abdelaziz and Mayaa al-Zahrani were arrested following the detention of at least 14 other women's rights campaigners and supporters. Authorities also arrested and then released WHRDs:   Hessah Al-Sheikh, Madeha Al-Ajroush, and Walaa Al-Shubbar who released on the 24th of May.
The imprisonment comes in response to their involvement in advocacy both within and outside of the kingdom. One of the detained WHRDs, Loujain participated in Saudi Arabia's CEDAW review in Geneva in Feburary 2018, when she returned to Saudi Arabia she was detained and placed under a travel ban. Then, in May 2018, she was detained again alongside fellow WHRDs.
The arrests were accompanied by a public defamation campaign by the Saudi authorities and  pro-government media to undermine the work of women human rights defenders. Under the hashtag "embassy agents", at least 500 troll accounts on Twitter praised the arrest of the WHRDs.
The world celebrates lifting the ban on Saudi women drivers & that women are reclaiming the right to drive in Saudi Arabia, while the Saudi government has been arresting the WHRDs who were the ones who lobbied so hard for this change.  The crown prince is making it abundantly clear that he will brook no dissent. These 'reforms' are aimed at improving the country's international image without substantively giving WHRDs more of a voice in Saudi society.  In arresting women who challenged the driving ban just a few weeks before it's officially lifted, Saudi authorities made clear the limits of how much women can push. Reforms that are tightly managed and limited from the top — from the heights of power — are hardly reforms at all. The kingdom is still a deeply authoritarian and repressive place.
The ongoing crackdown has been condemned by the regional and international community:
On May 31, the European Parliament  adopted a resolution which condemned the ongoing repression of human rights defenders, including women human rights defenders in Saudi Arabia 'which undermines the credibility of the reform process in the country'. The adopted resolution called on the Saudi authorities to put an end to all forms of harassment, including at judicial level against human rights defenders, including WHRDs Eman alNafjan, Aziza al Youssef and Loujain al-Hathloul and to immediately and unconditionally release all human rights defenders. Read it here.
On June 14, 6 senators including Bernie Sanders & Dick Durbin urged Secretary Pompeo to condemn the crackdown on women human rights defenders in Saudi Arabia and to raise these concerns directly with Saudi authorities.
On June 10, the Regional Coalition, sent and submitted at least 700 signatures from at least 25 countries to several UN Special Rapporteurs and Working Groups .
On June 27, UN experts, including those we have mailed and contacted, have released a statement demanding Saudi Arabia to immediately free women human rights defenders held in crackdown.
We at the Regional Coalition of Women Human Rights Defenders in the Middle East and North Africa stand in solidarity with women human rights defenders in Saudi Arabia.
We demand the Saudi authorities to:
Release all women human rights defenders immediately and unconditionally, and drop all charges against them;
Ensure in all circumstances the physical and psychological safety and integrity of all women human rights defenders in Saudi Arabia
End the harassment and persecution of women human rights defenders.
Ensure in all circumstances that all human rights defenders, including women's rights defenders, are able to carry out their legitimate human rights activities without fear of reprisal.
Take action and support Saudi WHRDs.
Let the WHRDs know that they are not alone – by adding your voice to this petition asking Saudi Arabian Authorities to #ReleaseSaudiWHRDs.
Write a letter, send an email, call, fax or tweet using the hashtag #ReleaseSaudiWHRDs urging the Saudi authorities to act on the above recommendations.
Contact the following officials:
King and Prime Minister
His Majesty King Salman bin Abdul Aziz Al Saud
The Custodian of the two Holy Mosques
Office of His Majesty the King
Royal Court, Riyadh
Kingdom of Saudi Arabia
Fax: (via Ministry of Interior)
+966 11 403 3125 (please keep trying)
Twitter: @KingSalman
Ambassador Prince Khalid bin Salman bin Abdulaziz,
Royal Embassy of Saudi Arabia
601 New Hampshire Ave. NW, Washington DC 20037
Phone: (202) 342-3800 I Fax: 202 295 3625
Email: info@saudiembassy.net
Contact Form: https://www.saudiembassy.net/contact
Twitter: @SaudiEmbassyUSA