Your persistence bloomed into resistance
Since the founding of the Regional Coalition of Women Human Rights Defenders in the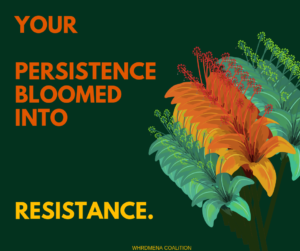 Middle East and North Africa, its members have been dedicated to creating a bridge of solidarity from the heart of the MENA region, and that WHRDs could cross towards each other, to support each other. In its first general assembly in 2015, the Coalition had 14 members. Today, the Coalition has 58 members in 10 countries and the diaspora, who are working unwaveringly to defend human rights in their diverse manifestations, and embracing each other with love, support and strength.
For three consecutive years, the members of the Coalition faced multiple forms of oppression, abuse and violations, but their insistence on the right to work and organize, to call for change and freedom, was greater, and it was contagious. Their experience inspired and taught various feminist and social movements in the region. For this reason and more, the Secretariat of the Regional Coalition of Women Human Rights Defenders in the Middle East and North Africa salutes all WHRDs in the region, and sends a special salutation to the members of the Coalition for their determination to persist and fight back.
To the WHRDs in Egypt, we salute you! Your resoluteness remains stronger than travel bans, bank accounts freeze and the shutdown of your work spaces. Your persistence has taught us the meaning of bravery.
To the WHRDs in Saudi Arabia, we salute you! Your insistence on facing the most repressive and brutal practices remind us daily of you. Your absence will not make us forget that we have colleagues in Saudi prisons whose fight for freedom inspires all of us. We need you among us and we demand your freedom now!
To the WHRDs in Palestine facing the brutality of the Israeli occupation courageously, we salute you! Your lives inspire all of us and your struggles teach us not to fear tyranny. Your persistence teach us that freedom is our destiny!
To the WHRDs in Yemen facing war, violence, destruction and starvation, we salute you, as you continue fighting for women's rights and the right to safety and security. Your persistence teaches us that through faith, we can carry on defending human rights in the darkest of times. Your determination lights the path for us.
To the WHRDs in Sudan, we salute you! Everywhere you are, whether in prisons or on the streets or in courts or in hospitals, your persistence teaches us that hope is a discipline. Your bravery is an inspiration, and we are proud to be standing in solidarity with you.
To the WHRDs in Syria, wherever you are, to those who are present and those who have been absented, we salute you! Your persistence inspires us and gives strength, determination and hope, and teaches us that passion creates solidarity!
To the WHRDs in Algeria, your persistence on fighting back inspires us and makes us believe that hope and faith are stronger than oppression.
We salute the WHRDs in Morocco, Iraq, Mauritania, Lebanon, Jordan, Tunisia, Bahrain, Oman, Kuwait and Kurdistan. Your determination is a bridge of solidarity and your presence in the Coalition has amplified our voices and ensured that we will not be silenced.
Your persistence blooms into resistance throughout our region!
LONG LIVE THE STRUGGLE OF THE WHRDs!
March 8, 2019