Egypt: Release Malak al-Kashef!
On 6 March 2019, Egyptian authorities arrested Malak al-Kashef, a prominent feminist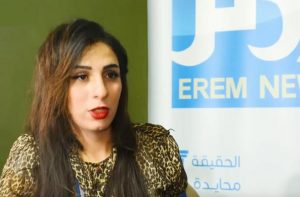 activist and woman human rights defender. Malak al Kashef is a transgender woman who is engaged with sexual and gender diversity activism in the Egypt and the region. According to her lawyer, al Kashef was arrested from her home by National Security Forces, and her location was identified after a 24 hours of complete disappearance. On 7 March, Malak al-Khashef appeared in front of a Supreme State Security Prosecutor. Later on, she was forcibly disappeared again and was found in Al Haram in solitary confinement. On 10 March, State Prosecution ordered her detention for 15 days pending investigation. She was charged with 'supporting a terrorist organization', 'using social media to incite crimes that violate the law'. The Egyptian Commission for Rights and Freedoms documented that Malak was subjected to a forced anal examination and sexual violence in a hospital. Anal forced examination is dehumanizing form of torture and violence. We believe that Malak al Kashef will be subjected to more violence if she remains in detention.
 The arrest of Malak al Kashef comes after a wave of outrage regarding the Ramses tragic train accident. The Egyptian prosecution didn't specify the main reason for the arrest.
Malak Al-Kashef underwent surgery on the basis of Al-Azhar's approval but has not yet been able to change her name and gender from man to women on her official papers, because of the absence of legal procedures in Egypt. This makes her vulnerable to all forms of dangers in everyday life such as finding decent work or be subjected to constant harassment and bullying.
Malak Al-Kashef is one of the most prominent young voices in the region and has placed herself on the front lines in the defense of gender and sexual diversity, not only in Egypt but in North Africa and the entire Arab world. For example, she participated in a talk show that is watched by millions of viewers and faced a lot of backlash for it.
There is a lot of diversity in our societies; and accepting and acknowledging that enriches our communities liberates us from assumptions about gender roles and sexual orientation. In our region, there is trend protected by authority, and it is working tirelessly to criminalize the struggle for human rights and targeting human rights defenders; who are facing a lot of violence; arbitrary laws are being used to take reprisal actions against them. Defenders of sexual and gender diversity in these circumstances are more vulnerable to violence and danger because they are smeared violently and accused of being 'anti-religion' and 'morals'. At a time when people are not allowed to object or express opinions, it is difficult to hear voices that support them and promote their right to exist.
The signatories belong to different organizations in several countries and regions in North Africa and the Middle east and they stand in solidarity with Malak al-Kashef and demand her immediate release.
-Regional Coalition of Women Human Rights Defenders in the Middle East and North Africa
-Nazra for Feminist Studies- Egypt
The Knowledge Workshop- Lebanon
-Anti Racism Movement- Lebanon
-Roaya for Feminist Studies- Sudan
No to Women's Oppression Initiative- Sudan
The A Project- Lebanon
-AlQaws for Sexual and Gender Diversity in Palestinian Society- Palestine
Bedayaa Organization in Nile Valley area (Egypt and Sudan).
-Transat in Middle East and North Africa