Solidarity with Nazha El Khalidi: Drop all charges against her!
On March 18, Moroccan authorities began the trial of Nazha El Khalidi, a prominent journalist and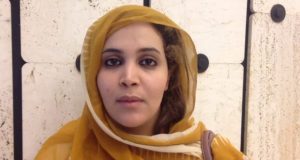 woman human rights defender. El Khalidi was arrested on December 4th, 2018 while live-streaming a peaceful protests on social media. This video captures the moment she was violently arrested by police. She was later released in the same day but she was beaten and her phone was confiscated. On March 4, 2019 Nazha El-Khalidi was retaken to the police station for further investigations.
Moroccan authorities are accusing El Khalidi of "claiming or usurping a title associated with a profession that is regulated by law without meeting the necessary conditions to use it." According to Article 381 of the Moroccan Penal Code, El Khalidi could be sentenced to between three months and two years and a fine of between 120 Dirhams and 5,000 Dirhams.
Nazha El-Khalidi is a prominent woman human rights defender and she collaborates with Equipe Media which is a citizen media collective that works on documenting human rights violations. El Khalidi has been targeted multiple of times before. On 21 August, 2016 El-Khalidi was arrested while covering a peaceful protest and her camera was confiscated.
Equipe Media made an urgent appeal: "We urge international human rights monitors and media to demand that Morocco respect freedom of the press and of expression in Western Sahara, and to stop harassing Sahrawi journalists." The Paris-based World Organization against Torture has condemned El Khalidi's arrest, which it considers to be arbitrary.
Targeting Nazha El-Khalidi in a context in which the Moroccan authorities bans independent journalist groups and platforms is worrying. This targeting proves that there is an ongoing crackdown and an attempt to criminalize journalists and to silence them. Journalists and WHRDs are subject to arbitrary detention and ill-treatment.
The Regional Coalition of Women Human Rights Defenders in MENA stands in solidarity with Nazha El-Khalidi and urges the authorities to drop all charges against her. Detaining WHRDs and hindering their work is a clear violation of international law.
The Regional Coalition urges Moroccan authorities to:
-Drop all charges against Nazha El-Khalidi
-Ensure her physical and psychological integrity and well-being
-End the judicial harassment of all WHRDs.