Women Human Rights Defenders in Sudan: Arbitrary Detentions and Unfair Trials
Women human rights defenders have been targeted by the Sudan government through security forces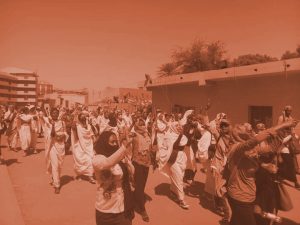 for years. However, following the beginning of the anti-regime demonstrations in December 2018, the targeting of women human rights defenders has increased significantly. Dozens of women human rights defenders have been subjected to arbitrary detention that lasted for months and many women protestors were detained and then released after spending hours in police detention centers. On 8 March 2019, authorities released at least 40 prominent and leading women human rights defenders, who have been previously arrested in January 2018.
A new wave of arrests began in February 2019, following the declaration of the state of emergency in Sudan for the next six months. Under Emergency Law, a systematic process of complete shutdown of civil society is taking place. The provision of the Emergency Law prohibit all forms of demonstrations and assembly. Demonstrations, gatherings and assemblies are classified as three different 'crimes' and are defined loosely. The Law also prohibits the dissemination and circulation of information on all medial platforms, such as social media. For example, sharing videos that document violations becomes a crime under this law. All forms of expression and peaceful assembly are also prohibited. If a person violates any of these provisions, they might be given a sentence that ranges from 6 months to 10 years in prison, along with a fine. This law targets women human rights defenders and hinders their work because it denies them their right to freedom of expression and active participation in the public sphere. In a violent patriarchal context, long prison sentences are a means of repression and intimidation which limit the ability of many women to participate in the ongoing peaceful movement, especially WHRDs who are active in student organizing.
Long term arbitrary detentions, carried out through procedural emergency courts, are measures of discrimination against women human rights defenders. Sentences given by the emergency procedural courts violate international human rights conventions. Detained WHRDs brought before an emergency court do not have enough time to contact lawyers, as the court takes place after 4 hours of the moment of arrest. On March 28, an emergency court sentenced two women human rights defenders to a 6 month imprisonment and three other minors were put under social surveillance for the same period.
The conditions of detention are inhumane. Investigations take hours, sometimes lasting more than 10 hours in one day. Based on several women human rights defenders' testimonies, who were recently released, the prison cell conditions was extremely inhumane and most of them are still suffering from illnesses caused by it. At least 10 of them were exposed to food poisoning. WHRDs who have asthma or diabetes were not given appropriate medical care. The Regional Coalition documented at least 11 women human rights defenders who were beaten while being taken to detention centers.
In March alone, authorities arrested more than 6 women human rights defenders, among them: Dr. Nagham Kamal, Soulaf Balloul and Linda Hashem who were arrested under ambiguous circumstances. They weren't protesting and they haven't been brought before an emergency court yet. An emergency court judge in Khartoum sentenced nine women protestors to flogging, but he retracted his sentence due to pressure and released them.
The Sudan government continues to crack down on women human rights defenders and obstruct their work in an effort to reduce their participation in the public sphere. On 1 April, the National Intelligence and Security Service arrested Dr. Iman Mahmoud from her home. Dr. Iman Mahmoud is a prominent WHRD and doctor who is part of the rescue and treatment team in demonstrations. Dr. Iman has a long history of volunteering and she is a member of several charity organizations and worked in  Kosti and Damazin.
On April 6, security forces arrested dozens of demonstrators (reportedly more than 50 women human rights defenders) and took them to the women's prison in Umdurman. However, due to the ongoing large protests, security forces released them. On the same day, a peaceful demonstrator, Badria Ishaq, was killed because of live bullets launched by security forces against protestors in central Darfur. NISS (National Security and Intelligence Services) also detained several journalists and women human rights defenders: Sara Daifallah, Aisha al-Samani and Lina Yaqub who were moving to a protest in front of the British Council
Despite the risks, women human rights defenders continue to fight back. Throughout Sudan, women human rights defenders organize themselves in different and innovative ways to resist a hostile and violent patriarchal context.
The Regional Coalition of Women Human Rights Defenders in MENA Is in solidarity with women human rights defenders in Sudan and:
-Condemns the violations committed by the Sudan government against WHRDs;
-Demands the Sudan government to immediately release all women human rights defenders and drop all charges against them;
-Demands the Sudan government to end its continuous violent targeting of women human rights defenders.
The Sudan government must respect WHRDs and women's rights based on international and African human rights mechanisms such as Such as The African Charter on Human and Peoples' Rights requires states which have ratified it to ensure equal protection of the law (article 3), respect for personal integrity (article 4), respect for human dignity (article 5) and protection from torture and cruel, inhuman or degrading punishment and treatment (article 5) for all people. Sudan signed the Protocol to the African Charter on Human and Peoples' Rights on the Rights of Women in Africa (The Maputo Protocol) on the 30th of June 2008 but has not ratified it. State parties to the in Maputo Protocol are committed to combating all forms of discrimination against women through appropriate legislative, institutional and other measures.
Based on the Maputo Protocol, we encourage the Sudan government to:
–          End all of forms of persecution against women human rights defenders;
–          Take effective measures to end the legitimization of violence against them;
–          Establish mechanisms to protect WHRDs in Sudan.