ALERT: Egypt renewed WHRD Malak Al-Kashif's detention for the third time.
On April 16, 2019,
the State Security Prosecution decided to renew WHRD Malak Al-Kashif's pre-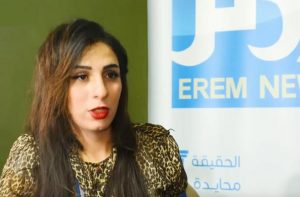 trial detention for 15 more days for the third time. Her next session for renewal of detention will be on 4 May 2019. Ms. Malak Al-Kashif was denied the right to family and lawyers visit.
Al-Kashif was forcibly disappeared for slightly more than 24 hours until she appeared in National Security Prosecution Office on case number 1739/2018 of National Security and was ordered to stay in pre-trial detention for 15 days. Her pr
e-trial detention has been renewed three times since then. She is being kept in solitary confinement at Tora Prison since 19 March 2019. 
Malak al Kashef is a transwoman who is engaged with sexual and gender diversity activism in the Egypt and the region. The Egyptian Commission for Rights and Freedoms documented that Malak was subjected to a forced anal examination and sexual violence in a hospital. Anal forced examination is dehumanizing form of torture and violence. The Regional Coalition of Women Human Rights Defenders in MENA believes that Malak al Kashef will be subjected to more violence if she remains in detention.
Malak Al-Kashef is one of the most prominent young voices in the region and has placed herself on the front lines in the defense of gender and sexual diversity, not only in Egypt but in North Africa and the entire Arab world. For example, she participated in a talk show that is watched by millions of viewers and faced a lot of backlash for it.
On March 15, 10 regional organizations, including the WHRDMENA Coalition, released a joint statement demanding her immediate and unconditional release.