Sudan: End impunity for attacks against human rights defenders & hold officials accountable!
5-2-2019
On 11 April 2019, the world witnessed the ouster of Sudan's President Omar al-Bashir, after three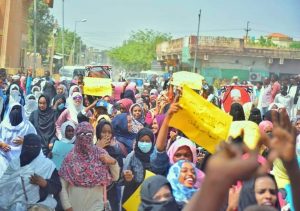 decades of a dictatorship, and following months of escalating peaceful protests and demonstrations that have been met with a brutal response by the security forces. Dozens of people have been killed including Badria Ishaq, Ansaf Moussa and Maryam Mohammed Abdullah. The Regional Coalition for Women Human Rights Defenders in the Middle East and North Africa has documented more than 100 violations against women human rights defenders committed in Sudan since the beginning of the protests in December 2018. These violations from arbitrary detentions, unfair trials, harassment and various forms of torture in detention centers, especially under the State of Emergency Laws.
On 11 April, in a televised address, Ahmed Awad Ibn Auf, the first vice president and defense minister of Sudan, announced the suspension of the Sudanese constitution and creation of a transitional military council, and declared a state of emergency for 3 months with a curfew from 10 P.M to 4 A.M for one month along with the release of all political detainees, among them 6 women human rights defenders. After 36 hours, Ibn Auf quit as head of transitional military council and replaced by Lieutenant General Abdel Fattah al-Burhan.  Addressing the protesters, al-Burhan stated that the curfew will be lifted and that a civilian government will be formed in 2 years. Along with the ongoing changes, Salah Gosh, head of the country's intelligence service resigned.  Amnesty International called on Sudan's new authorities to investigate the role of Salah Gosh, in the "killings of scores of Sudanese protesters". Many WHRDs have been organizing against the brutality of the intelligence services for years. A spokesman for the military council made key concession to protesters by vowing to restructure the feared National Intelligence and Security Service (NISS).
On April 15, The African Union (AU) called on Sudan's military to hand over power to a civilian government within 15 days, warning the country's membership in the bloc will be automatically suspended if it fails to do so. On April 16, The European Union announced that it will not recognize the legitimacy of the Transitional Military Council (TMC) in Sudan.
Under Emergency Law, a systematic process of complete shutdown of civil society is taking place. The provision of the Emergency Law prohibit all forms of demonstrations and assembly. Demonstrations, gatherings and assemblies are classified as three different 'crimes' and are defined loosely. The Law also prohibits the dissemination and circulation of information on all medial platforms, such as social media. For example, sharing videos that document violations becomes a crime under this law. All forms of expression and peaceful assembly are also prohibited. If a person violates any of these provisions, they might be given a sentence that ranges from 6 months to 10 years in prison, along with a fine. This law targets women human rights defenders and hinders their work because it denies them their right to freedom of expression and active participation in the public sphere. Many of those detained were subjected to ill-treatment in detention. There has been no accountability for the deaths, injuries and various other abuses perpetrated by Sudanese authorities against WHRDs. A patch work of legal immunities effectively shields government forces from criminal prosecution and accountability, leaving WHRDs without any form of protection mechanisms.
From December 2018 to 1 April 2019, the security forces have arrested and detained scores of women human rights defenders such as doctors, journalists, lawyers, student activists and others for prolonged periods without charge or trial.
On Thursday April 11, UN human rights officials have called on authorities to lift the state of emergency imposed by the military and address the legitimate grievances of women human rights defenders. Yesterday, human rights experts, the Special Rapporteur on the promotion and protection of the right to freedom of opinion and expression, have condemned reports of excessive use of force against peaceful protesters in Sudan. The Special Rapporteur on the right to freedom of peaceful assembly and of association, Clement Nyaletsossi Voule, said:"I urge the authorities to lift the national state of emergency and respond to the legitimate grievances of the Sudanese people through inclusive peaceful political process." The UN Independent Expert on the situation of human rights in Sudan, Aristide Nononsi, said the State's institutions are obliged to protect civilians and respect the people's legitimate demands and constitutional rights.
A day after the formation of the transitional council, dozens of peaceful protestors have been injured, beaten, shot or killed due to security forces' brutal crackdown against peaceful protests who are rejecting the transitional council.
We are gravely concerned about the excessive and indiscriminate use of force during the protests, as well as arbitrary detentions and killings and what that means for the dozens of WHRDs who are effectively engaging, coordinating and leading change across Sudan. Sudanese authorities have previously arrested at least 60 prominent and leading WHRDs and imprisoned them for months and subjected them to ill-treatment in detention. All WHRDs were released on 8 March 2019. We are worried that the violent crackdown against WHRDs will increase.
We, the undersigned regional and international organisations, condemn the declaration of state of emergency, curfew, arbitrary and continued incommunicado detentions, torture and other forms of ill-treatment, excessive use of force and censorship by government forces. We urge you to stand in solidarity with women human rights defenders who have the right to freedom of expression, association, and assembly,  including freedom of the media. We demand the authorities:
To stop targeting and intimidating women human rights defenders who seek to exercise their rights to freedom of expression, association, and assembly.
Conduct an immediate, independent and impartial investigation into all allegations of excessive use of force against peaceful protestors as well as ill-treatment and torture of WHRDs detainees by police and NISS. Findings of such investigations should be made public and perpetrators should be held accountable before an independent and impartial tribunal. The authorities must ensure that NISS former director Salah Gosh will be held accountable for the violations committed against WHRDs in the past four months.
Hand over Omar al Bashir, and all indicted regime officials such as Ahmad Haroun and former defense minister Abdulrahim Mohammed Hussain to The International Criminal Court in order to face trial. The International Criminal Court indicted al-Bashir in 2009 for war crimes, crimes against humanity and genocide for his role in the atrocities in Darfur. But al-Bashir remained free as the ICC lacks its own enforcement tools. Al-Bashir's apparent impunity weakened the standing of the court and the idea of international justice agreements, as he openly mocked the ICC on trips abroad. Al Bashir has committed, according to various UN reports, horrific human rights abuses, ethnic cleansing and sexual violence against women. UN investigators found that at least 175 women and girls have been raped or suffered other sexual and physical violence between September and December 2018.
Adala- Right to a Fair Trial
Ahmed Tlili Foundation for Democratic Culture (Tunisia)
Al Karama Academy to Defend Human Rights (Algeria)
Al-Nadeem Center for Rehabilitation of Victims of Violence
Democtratic Women's Organization
Horriya
ICAN
International Service for Human Rights
Iraqi Women's league
JASS (Just Associates)
MADRE
Moroccan Coalition of Human RightsGroups
Nazra for Feminist Studies
Secularism Is A Women's Issue:
Syrian Female Journalist Network
The Regional Coalition of Women Human Rights Defenders in MENA
Tunisian League to Defend Human Rights
Tunisian Organization Against Torture,
UAF-AFRICA
Vigilance for Democracy and the Civic State (Tunisia).
Wasla Initiative
Women Human Rights Defenders International Coalition
Women's Global Network for Reproductive Right
AWID
Rights for Peace Foundation
Sudanese Women Human Rights Defenders Project