Alert: Egyptian authorities renewed WHRD Malak al-Kashif's detention
On 19 May 2019, State Security Prosecution renewed the pre-trial detention of woman human rights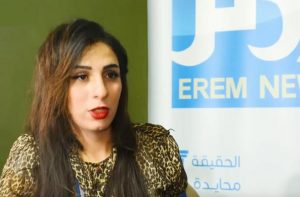 defender= Malak al-Kashif for 15 more days. Malak al Kashif is locked up in Torra, an all-male prison.
On March 6, Malak Al-Kashif was arrested from her house in sting operations alongside over 70 others who were swept up in the 
post-Ramses Station crash arrest campaign. 
Al-Kashif was forcibly disappeared for slightly more than 24 hours until she appeared in National Security Prosecution Office on case number 1739/2018 of National Security. Her pr
e-trial detention has been renewed three times since then. She is being kept in solitary confinement at Tora Prison since 19 March 2019. 
Malak al Kashef is a transwoman who is engaged with sexual and gender diversity activism in the Egypt and the region. The Egyptian Commission for Rights and Freedoms documented that Malak was subjected to a forced anal examination and sexual violence in a hospital. Anal forced examination is dehumanizing form of torture and violence. The Regional Coalition of Women Human Rights Defenders in MENA believes that Malak al Kashef will be subjected to more violence if she remains in detention. Malak al-Kashif needs to prepare for her exams and the prison authorities have denied al-Kashif access to her textbooks. In addition, al-Kashif needs to undergo a gender-confirmation surgery.
We  stand in solidarity with Malak al-Kashif and call on the Egyptian authorities to immediately release her and to drop all charges against her.