Letter: Human Rights Council Must Investigate Widespread Use of Sexual Violence Against Women & WHRDs in Sudan
The Coalition have sent the following letter to Permanent Representatives of Member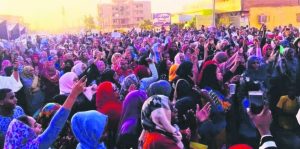 and Observer States of the United Nations Human Rights Council.
27 June 2019
Honorable Permanent Representatives of Member and Observer States of the United Nations Human Rights Council
Human Rights Council Must Establish International Inquiry to Investigate Gross Human Rights Violations and Widespread Use of Rape and Sexual Violence Against Sudanese Women Protesters and Activists
Excellency,
We write to you on this occasion with an urgent call on your government to convene an urgent debate at the Human Rights Council and adopt a resolution to establish an international Inquiry Mechanism that would investigate, collect evidence and identify individual perpetrators of gross human rights violations in Sudan including the use of sexual violence and rape by forces loyal to the Sudan Transitional Military Council (TMC) since 3 June 2019.
Background
Sudan's military authorities, also known as the "Transitional Military Council"; the de facto rulers of the country; may have committed crimes against humanity and gross human rights violations since 3 June 2019, when its forces, or forces at its command, including militia and para militia forces (either the Janjaweed, or the Rapid Support Forces RSF), used lethal forces to disperse peaceful protesters in various locations throughout Sudan.
Local sources, such as the non-governmental independent association of medical practitioners Sudan's Central Doctors Committee, the Khartoum-based Ahfad Trauma Center, and the Co-op Union of Women Tea Sellers , reported cases of rapes and gang rapes of women protesters, women's human rights defenders and women medical personnel working in hospitals or medical facilities around protesting points.
Albeit the continuous blackout of Internet in the country at the orders of the Military Council, eye-witness and testimonies continued to emerge on potential large scale crimes committed by the above-mentioned forces; including ditching bodies of protesters in the river Nile, in an attempt to remove material evidence on the occurrence of killing (and possibly torture) crimes.
Rape and sexual violence against women were largely utilized by the Sudanese army and its militia in Darfur since 2004.
Lack of access to the country by international monitors and independent human rights groups; as well as the impact of disconnecting the Internet and other means of communication could signal the horrifying extent of crimes committed by the Military Council and its militia since 3 June 2019. In other words, we may know very little about the scope and volume of killings and incidents of rape and gang rape during that period.
There are no precedents where the Sudanese army, or the competent authorities, ever conducted any type of transparent investigation into the conduct of its senior staff or any ranks in its military establishment, and never thusly punished or held any official (or soldier) accountable for their conduct. In addition, the investigation efforts announced by the TMC include the actors who gathered in the meeting held by the TMC to plan the sit-in dispersal prior to the 3 June massacre, notably the head of judges and the attorney general. Thus, such an announcement of domestic investigations should not be considered credible.
The International Inquiry

As evidence is being erased or destroyed while the country is under internet blackout, the regional and international multilateral forum should urgently take concrete actions to establish the facts and circumstances, identify perpetrators, and put the necessary pressure on the TMC to immediately cease all acts of atrocities throughout Sudan.
As of 13 June 2019, United Nations Special Representative of the Secretary-General on Sexual Violence in Conflict, Mrs. Pramila Patten, expressed strong support for the "rapid deployment of a United Nations human rights monitoring team to examine the situation on the ground, including alleged cases of sexual violence, and appeals for the full cooperation of the transitional authority in the deployment of such a mission".
Rape and Gang rape of women and women rights defenders or activists; as well as other forms of sexual violence utilized by TMC or forces loyal to it; must specifically be addressed as part of the international inquiry mechanism since such practice not only is a gross infringement upon several protections Sudanese women must have; but is also an institutional practice within the Sudanese military that produced most tragic and shocking crimes in the past, particularly in Darfur.
Any international inquiry mechanism should also include a component to effectively track and identify missing persons to coordinate and consolidate claims regarding missing persons, including persons subjected to enforced disappearance.
A Human Rights Council-mandated Inquiry Mechanism could include several monitoring and investigation teams, and must be empowered by the backing of the Secretary-General of the U.N.
Albeit that Inquiry mechanism may not stipulate or consist of international justice mechanisms; accountability for the crimes mentioned above must be kept and considered at the center of and ahead of international justice mechanism.
We thank you for your attention to this urgent appeal and we commit ourselves to provide you with any further information.
Sincerely,
The Regional Coalition of Women Human Rights Defenders in MENA