WHRDMENA Coalition's Statement on the Dispersal of the Sit-in in Sudan
Today on 3 June 2019, Rapid Security Forces and militia affiliated with the military council in Sudan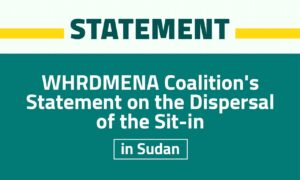 have attacked the general and open sit-in, known as the sit-in of the general leadership, which assembles thousands of men and women. They have been participating in a peaceful manner since 6 April 2019, calling for the hand-over of power to a civil council and not a military one.
The concerned sit-in was dispersed at 4:00 a.m. this morning, where the military forces used live ammunition and killed – until now- 21 individuals in accordance to the Central Committee of Sudan Doctors (CCSD). The CCSD documented the martyrdom of 16 individuals in different location in Khartoum, and the martyrdom of 5 individuals in UmDurman which witnessed wide mobilization since this morning, due to the attack on the sit-in and its dispersal by force. Moreover, 13 WHRDs have been injured – until now – and several of them were arrested in accordance to the documentation of members of the WHRD MENA Coalition.
The military council did not clarify until now the reasons behind their attack on the sit-in, and Sky News Arabia announced news with an unidentifiable source claiming that the attack was due to the "clean-up of Columbia District", where in fact in was a universal dispersal of the sit-in. This of course comes days after a general strike was announced in Sudan on 27 and 28 May by different civil groups in response to the refusal of the military council to assemble a transitional civil council to rule Sudan.
Until now, violence against women and men protestors continues in different locations in Khartoum, and the Sudanese Professionals Associations warned from the intention of cutting off the internet and communications in the next few hours.
The WHRD MENA Coalition calls on all teams of the International Red Cross currently located in Sudan, and Medicines Sans Frontier (Doctors without Borders) to immediately intervene in a professional and humane manner, to provide medical services and emergency first-aid support needed to those who are injured. The Coalition also calls on them to document the injuries and violations suffered by the peaceful protestors due to the incoming news of attacks and raid-ins on hospitals and houses. In addition, the WHRD MENA Coalition addresses the attention of the UN special rapporteur on Sudanese Affairs and UN organizations in Sudan to communicate with various civil group organizations to protect them from the violence of military forces.
The WHRD MENA Coalition stands in utter solidarity with its members in Sudan, and applauds them on their efforts to document and combat the violence of the military forces, in addition to working on the protection of women and men protestors. Long live your struggle that brightens our coalition with hope. Long live the struggle of WHRDs in Sudan!