Alert: Paramedic Saba al-Mahdawi Kidnapped in Iraq
On 2 November 2019, field activist and paramedic Saba al-Mahdawi was abducted on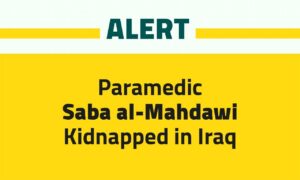 her way home from Tahrir Square in Baghdad. Eyewitnesses have confirmed that armed men seized Mahdawi in central Baghdad, driving her away while she screamed and called for her mother. 
The Iraqi Human Rights Commission confirmed on Sunday that Mahdawi had been abducted the previous evening, but did not say who had seized her. The Commission urged security forces to investigate the matter and other "organised kidnapping operations" in recent weeks.
Saba al-Mahdawi is one of the volunteer doctors on the grounds who is providing first aid and primary health care to the demonstrators of Tahrir Square. She is known for her commitment to defending human and civil rights. 
The WHRDMENA Coalition is following up on Saba al-Mahdawi's case, monitoring the situation in Iraq, and documenting violations against WHRDs. The Coalition calls for regional and international solidarity with WHRDs in Iraq who are in grave danger.