Iraq: Kidnapping of women human rights defenders (WHRDs)
On October 1, 2019, protests against unemployment, corruption and poor services erupted in some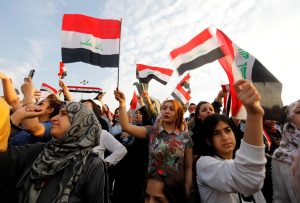 provinces of Iraq, notably Baghdad and the southern and central provinces. The government imposed an indefinite curfew in Baghdad that began at 5 am starting the 4th of October. Security forces have blocked major roads and bridges, and have imposed an almost complete Internet blockage for 123 hours in a row, with a high probability that the coming hours and days shall re-witness another Internet blackout. Security forces used excessive violence with demonstrators, subjecting them to extensive assaults and oppression, including firing live ammunition and rubber bullets, severe beatings, using tear gas and hot water, in addition to stalking, mass arrests, and the extraction of forced confessions. On October 24, the Iraqi government pledged to suspend senior security officials from their work and enforce any possible additional measures in answer to their bloody response to a series of protests in early October 2019. However, the government has yet to announce its findings, nor has its report addressed some of the most serious violations committed during the protests or even the alleged role of the Popular Mobilization Forces (PMF) in killing protesters.
On October 24, a second wave of protests broke out in Baghdad and other provinces across Iraq, including Diwaniya, Thi Qar, Basra, Karbala, Najaf, Missan and Babel. According to the Independent High Commission for Human Rights in Iraq, at least 100 protesters were killed and 3654 injured in this recent round of protests.
Women and WHRDs are prominently involved in these protests in different ways. In the city of Najaf, a group of women organized a protest against the oppression of demonstrators. Their widely circulated videos documented the tear gas injury of a female protester and another running during a confrontation with police to help her fellow injured protestors during a confrontation with the police forces. Activists have also been involved in the publication of video clips documenting police violence. Activist Ra'im Adel wrote on her Facebook page following her participation in the recent protests, before disappearing from social media platforms due to the governmental Internet blockage from the most of Iraq: "With live bullets, sound bombs and tear gas they chased us as we ran. We tried escaping from the cars and weapons following us. I had the honor of being part of this peaceful demonstration". She also said in an interview with Raise Your Voice that she and other demonstrators have been told to quickly evacuate the hospital because the security forces are soon to raid the place and arrest them. This is sufficient indication that there already were pre-planned attempts to prevent women from participating in these protests. Women and feminist groups also organized women's marches in various regions of Iraq.
In addition, a list of human rights defenders to be targeted by the authorities was circulated. Over the past week, bloggers in the southern regions of the country have also reported receiving text messages and phone calls threatening them and their families. The Arabic-language NRT channels, headquartered in Sulaimaniyah province in the Kurdistan region of Iraq, the local Tigris TV channel and the Al-Arabiya channel were also raided by unknown assailants, as per their statement.
To counter the heavy presence of women and their primary role in the demonstrations, kidnappings of female activists on the ground have already begun.
On November 2, 2019, paramedic field worker Saba al-Mahdawi was kidnapped by an armed group as she was returning home from Tahrir Square in central Baghdad. She was released on 13 November, almost two weeks after her abduction. On November 12, information spread about the disappearance of Iraqi activist Mary Mohammad, one of the participants in the protests who was best known for being quite the helping hand to protestors.  Saba Al Mahdawi and Mary Mohammad have been released.
Women activists and defenders in Iraq have been subjected to a campaign of intimidation and kidnapping since the onset of protests, which received an excessively violent answer from the authorities that killed dozens. The fate of the 26 Iraqi defenders and demonstrators who have been kidnapped since the beginning of the protests remains veiled in utter mystery.
Women human rights defenders in Iraq are currently working in a context where there are many risks that may hinder or stop their work altogether or even lead to their death. Despite all these risks, women defenders work to maintain and strengthen their scope of activism even under the current circumstances. And blocking the Internet is a flagrant violation of human rights, putting them at greater risk. In light of continued violence by security forces against demonstrators, the possibility of another Internet blackout stands valid. This means that women human rights defenders will not be able to make emergency calls, or access information from health care providers and other basic information. These Internet blockages violate multiple rights, including the right to freedom of expression and access to information, and the right to freedom of assembly. In their 2015 Joint Declaration on Freedom of Expression and Response to Conflict Situations, UN experts and rapporteurs declared that even in times of conflict, "filtering of content on the Internet, using communications 'kill switches' (i.e. shutting down entire parts of communications systems) and the physical takeover of broadcasting stations are measures which can never be justified under human rights law".
WHRD MENA Coalition stands in solidarity with women human rights defenders in Iraq and calls upon the international community to:
Pressure the Iraqi authorities to end the violence and oppression directed against demonstrators, including the use of weapons, live ammunition, rubber bullets, and gas bombs. The

Constitution

of Iraq protects the right to freedom of peaceful assembly and demonstration. The Iraqi government is also obliged under international human rights law to protect the right to freedom of expression and peaceful assembly, and its security forces should strictly abide by the "UN Basic Principles on the Use of Force and Firearms by Law Enforcement Officials" and apply non-violent means before resorting to violence. The authorities should ensure as well that law enforcement forces are properly trained on the use of tear gas in accordance with the UN Basic Principles.

Pressure the Iraqi authorities to stop the prosecution of demonstrators, human rights defenders and journalists. In addition to the current arrests and detentions, there have been

news

circulating in the past handful of days about the issuance of security instructions requiring the arrest of all defenders who work particularly with the civil society and the prompt investigation of all violations.

Pressure the Iraqi authorities not to cut Internet connection again or threaten to enforce a nationwide blockage. Under international law, Iraq has an

obligation

to ensure that restrictions on the Internet are carried out under the law as a necessarily and proportionate response to specific security concerns. Thus, Iraqi officials should not use broad indiscriminate shutdowns to curtail the flow of information, or to harm civilians' ability to freely assemble and express political views.

Remind the Iraqi authorities of the need to enable a safe and sound environment for the work of women human rights defenders, taking into consideration the former's history of oppression, threats, and even the assassination of women human rights defenders. This means that WHRDs, under the current circumstances, are facing life risks that require urgent and secure protection.
Background Information
Peaceful demonstrations began on October 1, 2019 in the cities of central and southern Iraq, including Baghdad, Basra, Najaf, Babel, and Diwaniyah. Demonstrators reiterated the demands of previous protests in July 2018, calling for an end to corruption and unemployment, condemnation of the poor nature of public services and building a state that respects the law and public freedoms of all citizens.
As protests continued in defiance of the imposed curfew, riot police and other members of the security services began using excessive force, such as firing live ammunition directly at crowds rather than aiming over heads, using sound bombs, hot water cannons and tear gas. In two other incidents, armored vehicles ran over the protesters. Several reports confirmed that snipers were lurking on building rooftops to hunt down the protesters, yet the authorities claimed that these were not state forces. These acts constitute a direct violation of the International Covenant on Civil and Political Rights, to which Iraq is a party.