The Worst Year Yet for WHRDs in MENA
Women human rights defenders in the Middle East and North Africa (MENA) region face constant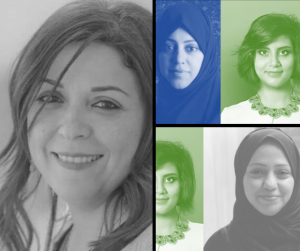 dangers that jeopardize their lives and safety, from threats, criminalization, assaults and abuses of all kinds. In the past year, however, the defenders met unprecedented challenges throughout the region, in the context of the harsh response of the current regimes to the mass protest movements that are pervading the region.
In Egypt, over the past 12 days (of November 2019), the Egyptian authorities staged the biggest crackdown under President Abdel Fattah al-Sisi's rule, arresting more than 2,300 people. The authorities have carried out large-scale arrests of hundreds of peaceful protesters, as well as more arbitrary arrests of WHRDs, women human rights lawyers, journalists and feminists such as Asmaa Dabees, who was released on December 10 after months of arbitrary detention. In addition, acts of harassment targeting various human rights and civil society organizations, such as El Nadim Center against Violence and Torture, were recorded. One of the co-founders of El Nadeem Center in 1993, Dr. Aida Seif al Dawla, has already received two unofficial summonses to appear before the prosecution. Egyptian security forces raided the headquarters of the independent news website Mada Masr, briefly detaining its staff and arresting its chief editor Lina Aatallah for a few hours before their release. The coalition adviser, Mozn Hassan, is still banned from traveling and even disposing of her money, alongside Azza Soliman, a member of the coalition's executive committee.
In Saudi Arabia, WHRDs have been behind bars since 2018, despite the temporary and conditional release of some. Saudi authorities continue to deny that the defenders have been subjected to any torture, and even asked human rights defender Loujain al-Hathloul to retract her claims in exchange for release, her family revealed on her Twitter account. On the 23rd of September, during the 42nd session of the Human Rights Council, Australia made a joint statement on behalf of 23 UN countries, raising concerns about the prosecution and intimidation of activists, the practice of enforced disappearance and arbitrary detention. There are existent reports that stand as proof for torture, unfair trials and extrajudicial executions. In addition, the statement also called for an end to impunity for the killing of journalist Jamal Khashoggi and highlighted the impending need for accountability and truth-revealing. Unfortunately, a number of countries that joined the March 2019 statement, have decided to withdraw their support from this urgent call, including France.
In Sudan, WHRDs continue to deal with the effects and trauma of the violence women were subjected to during the sit-in before the GHQ in June 2019 and continue to demand justice for survivors of all forms of violence, especially during this transitional and pivotal phase in Sudan. On September 23, 2019, Prime Minister Abdullah Hamdouk issued a decision to establish a promised national commission to investigate the 3 June 2019 Khartoum massacre and other human rights violations of the Sudanese Revolution. On the same day, elements of the Janjaweed attacked supporters who took to the streets in South Darfur to protest the rising price of bread and fuel. On September 28, 2019, the Human Rights Council adopted a resolution by consensus on renewing the mandate of the Independent Expert on the human rights situation in Sudan and supporting the establishment of an OHCHR main office, as well as four regional field offices. In other words, these entities will have the capacity to oversee the implementation of respect for human rights, monitor violations and eventually play an advisory role with the government. The resolution also paid tribute to the women who took part in the movements as well as human rights defenders, and further encouraged the Sudanese government to create a safe, secure and enabling environment for civil society, human rights defenders, media and other independent actors to operate freely and safely. However, despite its emphasis on Sudan's need to investigate human rights violations, the resolution failed to establish an Independent Investigative Mechanism of the Human Rights Council to investigate the facts of June 3, one of the basic demands of WHRDs, especially with regard to sexual violence which remained unmentioned by the resolution despite it highlighting the excessive use of force against peaceful demonstrators and their targeting by the RSF.
In Yemen, WHRDs working in dangerous contexts are facing a vicious defamation campaign. Renowned lawyer Afra'a al-Hariri has received several threats, reaching the extent of public death threats, which escalated recently as a number of people have asked about her in her area of ​​residence. Afra'a al-Hariri has already filed an official complaint. Journalist Nour Serib was also subjected to a campaign of defamation and incitement to violence that included serious accusations, as is the case of many women defenders working in the field of humanitarian relief. These ongoing smear campaigns are mainly aimed at punishing and retaliating against women human rights defenders for their effective work and global reach, especially that human rights defender Rasha Jarhoum has recently won the Anita Augsburg Prize.
In Morocco, on September 30, 2019, a court in Rabat sentenced defender Hajar Raissouni to one year in prison for on charges of "undergoing an illegal abortion" and "causing deliberate corruption", despite all medical reports denying it. Raissouni is known for her anti-corruption activism and the series of interviews she conducted with a number of anti-corruption activists in the Rif region of northern Morocco, and later published in May 2019. These accusations against her are but a mere attempt by the Moroccan authorities to strip her of any possible social solidarity. The meticulous choice of these charges is aimed at fueling societal violence fed by the patriarchal culture ravaging at the Moroccan community, which tactically aims at depriving women defenders of their legitimacy and entitlement to work in the public sphere, and punishing their human rights defense work, by attacking them with charges of such patriarchal, misogynistic nature. The Moroccan authorities have a known history of silencing WHRDs, such as the Sahrawi journalist Nazha El Khalidi who was arbitrarily detained at the beginning of the year and later subjected to unfair trials. On 27 November, a Moroccan court sentenced another Sahrawi defender, Mahfouda Lfakir, to six months in prison on trumped-up charges.
In Iraq, WHRDs risk being kidnapped and murdered. WHRDs in Iraq are currently working in a context brimming with risks that may hinder or stop their work, or even lead to their death. In spite of all the latter, Iraqi women defenders diligently work to maintain and even strengthen their activism, even under the current circumstances. Internet blockage, a flagrant violation of human rights, also puts them at greater risk. The possibility of the Internet being cut off again means that WHRDs will not be able to make emergency calls, especially contacts to access information from health care providers and basic information highly needed in light of continued violence perpetrated by security forces against demonstrators. These cuts violate multiple human rights, including the right to freedom of expression and access to information, and hinder the advancement of other rights, including the right to freedom of assembly. In their 2015 Joint Declaration on Freedom of Expression and Response to Conflict, UN experts and rapporteurs declared that even in times of conflict, "filtering of content on the Internet, using communications 'kill switches' (i.e. shutting down entire parts of communications systems) and the physical takeover of broadcasting stations are measures which can never be justified under human rights law".
In Palestine, women defenders witnessed arbitrary arrests of female students and lecturers at the university. Not to forget the raiding of the headquarters of the Union of Palestinian Women's Committees in Al-Khalil by Israeli soldiers. The women defenders marching in Al-Quds as part of the #Talat movement, meaning "women rise up", were also subjected to physical violence by the Israeli occupation forces, on the basis of being "Palestinians" who are "traveling and roaming freely". From a zoomed in level into the Palestinian societal fabric, the #Talat movement have been also subjected to intimidation by the local community because of their rejection of violence and sexual harassment within the Palestinian civil society. al-Qaws Foundation has also been attacked and harassed by the Palestinian Authority for its work on sexual and gender pluralism in the Palestinian society.
In Lebanon, female journalists, especially Dima Sadek, are subjected to a campaign of defamation and treason because of their stances against the policies of the Free Patriotic Movement (the Aounist party) and Hezbollah. She was also accused of communicating with Israeli soldiers and terrorists. Her phone number, alongside the contact information of other journalists and reporters, was also leaked to the public, whereby all are still getting subjected to a barrage of phone calls aiming and threats to their aiming at forcing them into silence.
Notwithstanding the foregoing, the defenders teach us resilience and perseverance across the whole region and inspire all its inhabitants with their insistence on equality, freedom and justice. Despite all the gender, authoritarian and patriarchal obstacles, they continue the journey and write a history of vital importance in the storyline of women struggles spanning the entire region. 
From the WHRD MENA Coalition to all WHRDs, thank you for your daily teachings!