Sudan's revolution, a year later: WHRDs demand justice & accountability
While the Sudanese revolution is close to sealing its first year by mid-December, the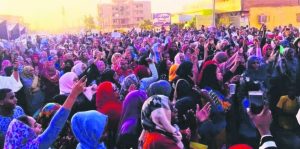 road towards achieving most of the demands and priorities of Sudanese women defenders is still fraught with challenges. This is of notable concern on the occasion of the International Day of Women Human Rights Defenders, and with the continued struggle of Sudanese WHRDs in demanding justice and enabling their nation's women to participate actively in the transitional period and pursue their dreams of building a new Sudan.
Justice remains the main demand in Sudan, in addition to holding accountable those responsible for what Human Rights Watch recently described as crimes against humanity that have targeted demonstrators since December 2018. Amongst the victims of these crimes were dozens of women human rights defenders, who have been subjected to torture, sexual violence, arbitrary arrest, enforced disappearance and extrajudicial killings. Despite the establishment of a national committee to investigate the Khartoum Massacre that occurred on June 3rd of this year (also known as the 29 Ramadan massacre), underrepresentation of women decision-makers is one of the shortcomings whose swift amendment WHRDs are still calling for. All in the aim of ensuring the participation of women in forming this investigative committee and overseeing the legality of its work to achieve justice, especially in crimes related to sexual violence and assaults against WHRDs in Sudan.
WHRDs in Sudan are also struggling to push the transitional government towards being feminist-inclusive at all levels of the state and policymaking. They are also pressuring the government to develop policies that protect WHRDs' work and launch the foundations of a a women protection program, against all forms of violence, by ratifying international conventions, on top of which is CEDAW.
The accelerated formation of the Commission for Women and Gender Equality and the Commission for Legal Reform, which are provided for in the Constitutional Declaration document, are a guarantee of significant changes in the current situation of women in Sudan and a safety net for the strategic work to be implemented in aim of ending state and societal violence against both women and WHRDs.
The transitional government's agenda must include the following atop its priority list to ensure the ultimate protection of WHRDs:
The development of a national protection mechanism for WHRDs in Sudan

The guaranteed implementation of all international recommendations, including the Universal Declaration of Human Rights Defenders and UN Resolution 67/144 of 2013 on the protection of women human rights defenders in the world

The abolishment of freedom-restricting laws that hinder the work of WHRDs and the work of women's civil society organizations in the country, suppress the freedom of expression and institutionalize violence against women