A new beginning, but the same old danger!
As we established our WHRDMENA Coalition in 2015, we witnessed a significant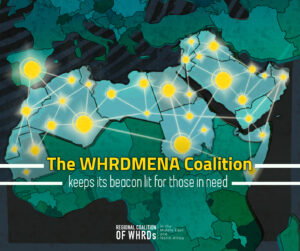 countermovement to the uprisings that started in Tunisia and spread to the MENA in 2011, to suppress people who revolted and yearned for freedom, democracy, good governance, and justice, among other aspirations. We decided to establish a WHRD coalition in the MENA to respond to what we knew was coming for us. We wanted our coalition to be a bridge for collective feminist work, a teaching/learning space, and within it, a beacon always lit for WHRDs looking for support.
The WHRDMENA Coalition has operated since 2015 from Beirut, one of the few cities left in our MENA that had political, social, and feminist movements organizing against the return of the police state in the region! Operating from Beirut allowed us to have accessible meetings and offered a relatively stable environment for our staff. As stated in last year's statement marking our 5th anniversary, we were able to reach thousands of people and work with hundreds of women human rights defenders (WHRDs) in our region, and to establish strong and solid ties between WHRDs in the Middle East and North Africa, wherever they are, whether in cities or villages, whether as individuals, organizations or grassroots groups, embracing the diverse causes they work on.
Local and regional collective organizing has been, and still is, the compass of our work; we constantly learn from the different, diverse, and creative ways that WHRDs and feminists organize so that they survive in the face of defamation, incitement against them, threats, and sometimes death.
In 2019, when the economic collapse in Lebanon took place, as an outcome of the collapse, the revolution of the 17th of October that broke in the face of one of the most complex regimes in terms of tyranny and corruption, and the Lebanese warlord system that was fighting back through sectarian tension, civil unrest, and controlled access to infrastructure. Therefore, we had to assess and examine if Beirut was safe for the type of work that we do and the WHRDs we engage with.
Accordingly, the General Assembly of the WHRDMENA Coalition took a big decision: We moved our operations to Spain, yet we continue to have our staff, members, and activities deeply rooted in the MENA.
In 2021, the coalition operated amidst a pandemic and severe political change in our region. We prioritized a reflection about our work structure, the team members' roles, the conditions in which they work, we examined the kind of environment we sustain, and we launched discussions about confronting harmful and toxic behaviors in our work and movements, and we are exploring feminist tools and steps that lead to healing and reducing harm. We gave a lot of time to reflect on the responsibilities of the Board of Directors and to identify the coalition's needs in terms of expertise and human resources that would allow us to continue to work and respond to WHRDs and movements in the region that face imminent danger.
Accordingly, 2022 will be the beginning of a different start for the coalition as we begin to implement a new strategy that will continue to carry out advocacy and support campaigns, communicating with international and global stakeholders to protect WHRDs from ongoing violations and providing access to protection and support resources. The WHRDMENA Coalition will open membership to more WHRDs in the region this year. We will also continue to invest in learning circles and open creative and technical spaces for skills' development, knowledge exchange, and production among WHRDs in the region in a participatory and accessible manner. Wellbeing is a practice, need and concept that will be integrated in all our programing and spaces.
The WHRDMENA coalition will prioritize the support of local grassroots movements and continue to co-create networks that include our members and others as a way to encourage collective action and local coordination in the region. It seems to us that 2022 is a year full of challenges and changes, and there is a need to resist all efforts aimed at silencing WHRDs, but our faith in feminist movements flourish in us, and we continue to resist in the face of every tyrant.