Looking for: ADMINISTRATION, LOGISTICS, AND OPERATIONS support!
ADMINISTRATION, LOGISTICS, AND OPERATIONS support!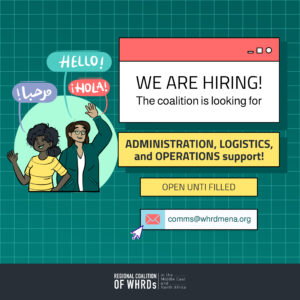 (A.L.O. support)
Location: MADRID  ( home-based)
Languages: Spanish and English or Spanish and Arabic.
Part-time:  3 days a week ( T.W.T)
About the position
The position requires an excellent understanding of organizational structures, administrative processes, and logistical processes. We consider this role a key role in liaison between the WHRDMENA Staff and Spanish partners, companies, and government.
The role will be admin support to the existing employees, including contracting and task sheet verifications. The role will lead the discussion with accountancy companies, Partners in Spain, and lawyers. They will also follow up on needed steps to keep the WHRDMENA functioning as per the legal requirements of Spain.
ROLES and RESPONSIBILITIES
Ensure a smooth transition of internal financial requirements to Spanish regulations 
developing and maintaining policies related to the coalition's staff and partners if needed.
Manage the payments schedule plan for all consultants ( liaison between accounting, managers, and payment executives)
Managing all documentation related to the administration of staff contract + invoice+ task sheet+ receipt legal documents, including leaves, and ensuring the filing of appropriate documentation,
Compile and assist with the shortlist of the candidates and invite shortlisted candidates for interviews, including preparing interview summaries after each interview and Participating in Interviews as and when necessary.
Preparing payment and other adjustments to amount accordingly and share with the accountant
Managing consultant orientation activities and ensuring that all employees are thoroughly oriented with our work, values, and code of conduct.
Handling e-payment
Corresponding with banks and financial agencies and ensuring translation of correspondences to R.C.
Support the R.C. in conversation with the lawyer, accountant, and Spanish partners and meetings that need Spanish translation and /is about Spanish context.
Get offers for hotels and tickets and ensure a selection process according to our budget and compliance list.
Set up events and meetings for the coalition
Help in the visa process for the guest of WHRDMENA outside of the E.U.
Requirements:
+3 years experience in event planning and logistics in MADRID
+3 years experience in an administrative position
+3 excellent command of Spanish and English, OR Spanish/ Arabic, OR all three.
Proven expertise in paperwork and processes related to good accounting, invoicing, tax, legal requirements for organizations in Madrid.
PLUSES:
Feminist organizing and activism
Knowledge of U.N. and WHRDs concepts and work
knowledge of the MENA region
passion for administrative and operational work.
About WHRDMENA Coalition:
WHRDMENA Coalition is a membership-based coalition of organizations and women human rights defenders engaging with and defending a spectrum of rights and struggles. We have recently moved to Madrid as a registered local organization. The WHRDMENA coalition is a feminist coalition supporting women human rights defenders in the MENA.
Send a letter about your experience as an A, L, and O person, in addition to your CV!
subject: A.L.O. Support!
Open until filled!