Gender Equality and Cyber GBV: CSW67 Online Parallel Event
CSW67 Online Parallel Event:
Gender Equality Prerequisites Addressing Cyber GBV against WHRDs in MENA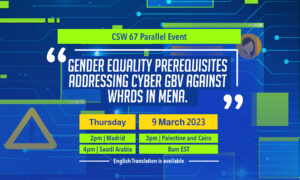 WHRDs in MENA face multiple forms of cyber violence, including smearing campaigns, inciting the public against them, publishing fabricated information about them, and hacking into their private information and publishing it online widely. Also, spy programs and software, such as Pegasus, are used to spy on their mobile phones, access their locations and pictures of them or their families. This parallel event aims to shed light on these trends, and the necessary measures needed to be taken by state and non-state actors, as gender equality can never be achieved while technology is used to target WHRDs in the region.
English translation will be provided.
To register: https://tinyurl.com/mryycex6