Joint Statement | Sudan: Calling for Immediate Unconditional Ceasefire and the protection of the revolution!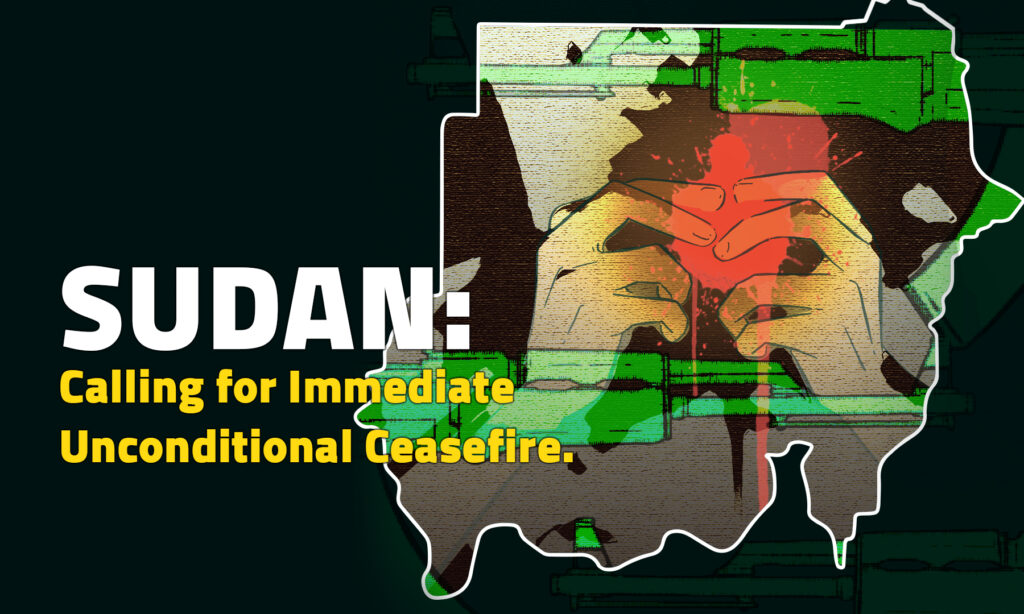 The Regional Coalition for Women Human Rights Defenders in West Asia and North Africa (WANA), Sudanese Women Rights Action (SUWRA) and Nora Center for Combating Sexaual violence ( NORA) are monitoring the clashes currently taking place in most cities and areas in Khartoum, Sudan,  since the early hours of 15 April 2023, with great concern and worry, and is appalled by the complete negligence of the opposite forces, the Sudanese army and the Parliamentary Rapid Support Forces of the safety, physical and psychological integrity of Sudanese women, men and children, as preliminary reports assert the death of dozens of civilians, including women and girls, from heavy artillery and live bullets finding their way inside civilians' homes. 
The prioritization of political interests over the Sudanese people's safety is an atrocious crime committed by both conflicting parties, who should instead prioritize the safety of civilians and work towards achieving a democratic rule in the country. Dozen of civilians have already lost including a woman doctor, namely Alaa Fawzy, via a live bullet that entered her home through the window in Omdurman, and another injuring her mother's shoulder, and there are reports of 2 girls and 11 men losing their lives in Alfashir, Nayala and other areas. The WHRDMENA Coalition has been receiving worrying news of more fatalities among medical workers. 
Moreover, the house of one of the coalition members was shelled, and her safety remains a grave concern. Other reports via SkyNewsArabia document a greater number of casualties, including 56 deaths and 595 injured, including "Two people (who) were killed at Khartoum airport, four in (neighboring) Omdurman, eight in the city of Nyala, six in the city of El Obeid and five in El Fasher". Clashes ensued as a result of the conflicting parties' failure to reach an agreement after "(a) new deal (that was) signed late last year was supposed to pave the way to democratic elections, but Saturday's violence erupted following weeks of escalating tensions".
The Regional Coalition and the Sudanese Women's Rights Action Organization (SUWRA) fear that women, including women journalists, doctors and women human rights defenders are at grave risk of losing their lives or being subjected to arrest and to both physical and sexual violence, in their efforts to document violations and rescue civilians, as history has proven many times over that it is women and children who suffer the most during armed conflict. In addition, both the Regional Coalition and the Sudanese Women's Rights Action Organization (SUWRA) believe that the current conflict reflects the reluctance of both sides to surrender their arms and make a serious attempt to work on a transition to civilian rule, and this war transgresses the rule of international law and paves the way for women to be placed under customary patriarchal provisions and conditions, endangering the gains of feminists, especially those attained during the revolution. It also paves the way for a post-conflict era that will ignore and ridicule feminist voices and women human rights defenders, and focus on security and armaments. 
Accordingly, the Regional Coalition and the Sudanese Women's Rights Action Organization (SUWRA) call for an immediate cease of fire immediately, and for an emergency convening of the UN security council to fortify the ceasefire. We call on the Arab League and the United Nations to mandate an end to this war, and the United Nations security council to promptly form investigation committees to hold the opposing sides accountable, and to work with civilians to establish a peaceful transition to a democratic Sudanese state that reflects the demands of the democratic revolution. 
We also call on media organizations and groups to work on greater coverage of this war, and to amplify the voices of Sudanese women and women human rights defenders for guidance on what to do, as well as international organizations to work quickly to provide humanitarian support to the Sudanese people, as the situation is expected to escalate and worsen, should the international community fail to stop this violence.