Sudanese WHRD Nahlla Youssef to the HRC: We urge the international community to provide urgent protection and support for women peace activists and peace groups in Sudan
HRC 54th session 
Joint statement by ISHR, Sudanese Women Rights Action and WHRDMENA Coalition 
Speaker: Nahlla   Yousif 
English translation
"I haven't been able to talk to my family in Nyala, South Darfur, for more than three weeks now. I don't know if they are alive, dead or have fled to other areas."
"I am a WHRD from Darfur who fled the war there two months ago through a journey that lasted for more than 7 days until I reached a safer place. Millions of women in Sudan are still trapped in combat zones, without any safe pathways, and without any evacuation plans to protect them. WHRDs in these areas are increasingly in danger. After more than 5 months of continuous war in Sudan, women are living in hell under heavy artillery shells, plane fire and sexual violence."
At the 54th session of the Human Rights Council, during the debate on Sudan, Nahlla Yousif, woman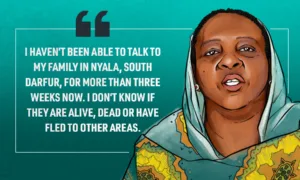 human rights defender from Darfur, delivered a joint statement on behalf of ISHR, Sudanese Women Rights Action, Future for Enlightenment and Development Organization and WHRDMENA Coalition
Read the full statement below:
On 22 August 2023, at least 40 civilians, including women and children, were killed when an artillery shell fell on a bridge under which they were sheltering from the bombing of their homes. Dozens have been killed in Khartoum as a result of fighting in residential neighborhoods. In North Kordofan, the city of El-Obeid is living in a state of panic, with the continuation of fighting and the siege of the city for four months. The city of El Geneina has become a ghost town after tens of thousands fled because of the ethnic violence in which hundreds were killed and dozens of women were raped during May and June.
Women are subjected to systematic kidnapping and rape, with reports of women being sold, or a ransom demanded for their release by kidnappers belonging to the Rapid Support Forces. WHRDs face increasing threats, with the closure of civic space for their work. On 7 August 2023, the security forces prevented a symposium from taking place in Al-Jazeera, and the women organizers were threatened. Moreover, the security forces arrested a group of women in Blue Nile for organizing a protest calling for an end to the war.
We urge the international community to provide urgent protection and support for women peace activists and peace groups in Sudan; strongly condemn Sudanese authorities' attacks on peace activists and civil society groups; and shed more light and widely disseminate the crimes committed against women and girls, and mobilize international human rights and feminist movements to call for and place pressure on the SAF and RSF to immediately end the war.
We urge the Council to adopt a resolution establi­shing, without fur­ther delay, an independent mechanism with a mandate, among other ele­ments, to:
Undertake a thorough investigation into all alleged violations and abuses of international hu­man rights law, violations of international humanitarian law and related crimes in Sudan, inclu­ding those constituting crimes under international law;
Esta­blish the facts, circumstances, and root causes of any such violations and abuses;
Col­lect, con­­so­lidate, analyse and preserve evidence, including of sexual and gender-based vio­lence and eth­nic vio­lence, with the objective of  ending impunity and supporting future legal proceedings;
Identify, where possible, those individuals and entities responsible; and
Provide guidance on justice, inc­lu­ding criminal accountability, reparations, and guarantees of non-recurrence.