Don't Forget WHRDs, Women and Girls, and LGBTQI+ communities in Syria, Morocco and Lybia!
Statement – 19 September 2023
More than 6 months have passed since the earthquake that hit northern and western Syria. 10 days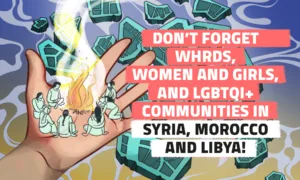 ago a devastating earthquake hit near the city of Marrakech in Morocco, 2 days later storm Daniel decimated towns in Derna, Al Bayda and Sousa of Libya. The Regional Coalition of Women Human Rights Defenders (WHRDs) in SouthWest Asia and North Africa (also known as WHRDMENA) has witnessed many times before how news of natural disasters in the SWANA region makes headlines for a few days, but quickly disappears from global news cycles and international community interest dwindles afterwards. While the attention is geared towards these sites of devastation for a short period of time, little to no attention is focused on WHRDs, women, girls and LGBTQI+ communities in these disasters either in the wake of disasters' aftermath, or in the weeks and months that follow.
In a region that struggles with economic peripheralization, crises of governance, armed conflict, occupation, political unrest, fundamentalisms, patriarchal social regimes, civil society's shrinking spaces and clampdowns on civic, human, and women's rights, the consequences of natural disasters hit WHRDs, women, girls, LGBTQI+ communities and other vulnerable and historically scapegoated groups such as religious and ethnic minorities and persons with disabilities even harder as they struggle with multiple layers of neglect and deliberate exclusion from emergency and relief services. In the aftermath of these climate disasters,  women and girls are more likely to lose their lives, their livelihoods, and face increased gender based violence. Grassroots movements, often led by WHRDs, lose their offices and resources.  At the same time, women's rights and feminist movements are expected to respond to these crises and continue their work with no support, and women are expected to carry out normalized and socially constructed gender roles including care giving, while they are in dire need of support themselves. National plans for emergency responses lack a gender perspective and consequently, these communities have fewer chances of survival and even less potential for recovering losses and rebuilding their social and material infrastructures.
The Regional Coalition of WHRDs in SWANA (also known as WHRDMENA) reminds the international community that the catastrophic effects of these disasters last for decades, and asserts recommendations to ensure the survival of these communities and their prioritization in rebuilding efforts, to be undertaken by state actors and the international community. These are:
Acknowledge the unfair burden carried by the global south and especially the most vulnerable communities therein in shouldering the devastating costs of climate change and create international mechanisms to fairly share this hefty cost
Decriminalize human migration especially in the wake of these climate catastrophes
Prioritize funneling resources to WHRDs who are already on the ground and connected to the needs of the most vulnerable communities
Establish immediate preventative and protective measures for women, girls and WHRDs, and provide effective services to victims and survivors of GBV in these contexts
Establish special mechanisms to continually document GBV in the context of natural disasters in the region in general, and in Syria, Morocco and Libya in particular
Provide prompt relief services and support to WHRDs, women, girls, and LGBTQI+ communities in these contexts including sustenance, health care including sexual and reproductive health services and maternal care, safe alternative housing and psychological support
Document the strategies employed and activities conducted by WHRDs, women's rights, feminist and LGBTQI+ movements in response to these contexts with the aim of resourcing their rebuilding efforts in the medium and long term
Ensure the inclusion of WHRDs, women's rights, feminist and LGBTQI+ groups and movements  in deciding national rebuilding efforts to enable them to have a real voice in crisis response strategies affecting vulnerable groups
Guarantee the sustainability of the strategies highlighted above, as natural disasters amplify already existing vulnerabilities and entrench inequalities for the concerned groups for up to several decades