Arrest of WHRD in KSA: Free Nuha Al Blawi NOW!
8/2/2018
.Saudi authorities arrested WHRD Nuha Al Blawi 14 days ago, in disturbing and complete media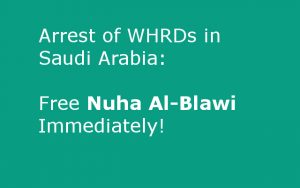 blackout. Al Blawi is detained in Tabuk city and authorities have renewed her detention for more 35 days. Her family refused to issue any statement regarding the status of the WHRD.
Nuha Al Blawi is a brave and known WHRD and video blogger who works for democratic change and advocates for the civil and political rights of women peacefully
Saudi authorities have no legal grounding for her detention, and it nothing but another indicator of the authorities' tendency to target WHRDs who challenge the guardianship system and stand in the face of human rights violations in the Kingdom. Such arbitrary arrests of WHRDs are contradictory to the Saudi authorities' promises of introducing various reforms regarding the status of women rights and human rights within the framework of the new vision of the Saudi regime. Despite such promises, Saudi authorities continue to oppress and silence WHRDs in several forms, including ensuring the silence of their families either through threats and coercion or collusion, and it is important to note that the latter is a challenge for WHRDs in particular, under patriarchal hegemony
We also received reports claiming that Maria Naji and Loujayn, two students studying in Egypt, were arrested during their arrival at Jeddah airport on charges of inciting hatred against Saudi Arabia. No credible information have been disclosed regarding their whereabouts
The Regional Coalition for WHRDs in MENA calls on the Saudi authorities to immediately & unconditionally release Nuha Al Blawi and to refrain from detaining her as a punishment for her peaceful defense of human rights, and to ensure her mental and physical well-being. We also demand the Saudi authorities to disclose the whereabouts and status of Maria Naji and her friend. We call for an end to all forms of harassment, including legal and judicial harassment and defamation, against WHRD Nuha Al Blawi and all WHRDs in Saudi Arabia. We also want to remind Saudi Arabia of its membership in the United Nations, which obligates it to uphold and respect the main principles of the Universal Declaration of Human Rights along with the International Covenant on Civil and Political Rights, and to ensure that human rights are not violated, especially in respect to articles 9-11 which recognize the rights to liberty and security of the person. It prohibits arbitrary arrest and detention, requires any deprivation of liberty to be according to law and obliges parties to allow those deprived of their liberty to challenge their imprisonment through the court
We ask the international and regional community to take immediate action:
Press the Saudi authorities to immediately release WHRD Nuha Al Blawi and to disclose the whereabouts and status of Maria Naji and Lujayn. Contact the Saudi Ministry of Foreign Affairs here.
Contact Saudi Human Rights Commission on Twitter or e-mail: vinfo@hrc.gov.sa or phone: 009661141185100 and ask  about Al Blawi and all detained WHRDs.
Issue solidarity statements and send out appeals. Use hashtag: #WhistleInSolidarity.