Human Rights and Feminism School!
In December 2017, The Regional Coalition for Women Human Rights Defenders in MENA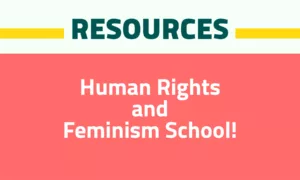 organized a Feminist & Human Rights school with young WHRDs from several countries in the region (Syria, Jordan, Palestine, Morocco, and Egypt). The idea of having a human rights school based on feminist thought was a result of the
Coalition's belief in regional solidarity between WHRDs and the need to work with young WHRDs on using feminist principles while organizing within social human rights movements and engaging with international mechanisms. The Coalition developed a theoretical and practical approach to the intersections between human rights and feminism, in collaboration with international mechanisms trainers, and renowned feminist organizers and WHRDs from the region. The school was viewed as an opportunity to develop a platform for young WHRDs in the region and working with them to understand more on how patriarchy's imposing of gender roles have hampered the work of WHRDs.
WHRDs that attended were able to identify a feminist perspective of the international approach of human rights, and international mechanisms measure within a feminist framework, along with highlighting the importance of solidarity as a form of advocacy in the region.
The school was a space for young WHRDs to express the special challenges they face. We share with you with few of the shared thoughts during the school, "The constant struggle we go through, because we are WOMEN defending human rights and because we are YOUNG WHRDs and we are not taken seriously enough, and the risks we put ourselves through are not considered serious", "We know that we have many chains constraining our movement but we believe that there is a space for us to support each other in order to face the daily violations we are subjected to and fight for a better world".