Updates from WHRDs in Sudan!
In the past few weeks, the Sudanese authorities launched a nationwide crackdown against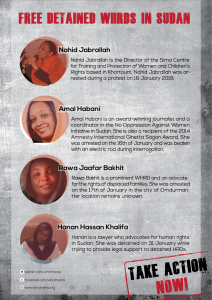 protesters and human rights defenders, through arrests and the use of excessive force resulting in killings. Human rights defender Amal Habani was arrested on 16 January 2018 and taken to an undisclosed location by security forces in Khartoum. WHRD Nahid Jabrallah was arrested during a protest on 16 January 2018.
On the 10th of January, Sudanese authorities directed their forces to attack a vigil held by "No to Women Oppression Initiative" and arrested more than 10 WHRDs including: Ihsan Fakiri, director of the initiative, Najla Nurin, Rashida Shamselddine, and Ihsan Kzam. The authorities released them after five hour of detention. However, they were summoned on a daily basis to the security offices even since their arrests, along with WHRD Ihsan Abdelaziz who have been going to security offices, on a daily basis, since 12th of December 2017.
On the 16th of January, Sudanese authorities arrested more than 100 protesters Most of them were released after more than 9 hours of detention, with the exception of WHRDs: journalist Amal Habani,who is an internationally acclaimed WHRD who won the "Ginetta Sagan Award" due to her work in promoting equality and justice for women in Sudan, and the Director of "Sima For Training and Protection of Women and Children's Rights" Nahed Jabrallah. Jabrallah is currently in poor health, suffering from a fracture in her leg and hand. The Coalition have received a lot of reports stating that Amal Habbani had been tortured during interrogation.
On the 17th of January, the authorities arrested Heba Dafallah, nicknamed "Abouni", a student at al Ahfad University along with WHRD Mahdiya who was arrested for a day from the Omdurman demonstrations. WHRD Rawa Jaafar Bakhit, who is a prominent advocate for the rights of displaced families, was arrested from the same protest.
On the 18th of January, WHRD Sara Naqdulla was arrested, her health was in critical situation.
On the 31st of January, Lawyer Hanan Hassan Khalifa was arrested while providing legal support to the detained peaceful protestors.
All of the aforementioned WHRDs were released due to the pressure put by WHRDs in Sudan and restless protests in front of several police stations, demanding the release of all WHRDs.
The Regional Coalition for Women Human Rights Defenders in the Middle East and North Africa condemns the Sudanese authorities' mass arrests of WHRDs and violating their rights to protest peacefully. And to stop random summoning of WHRDs to security centers and juridical harassments.