National Protection Mechanisms for WHRDs in Iraq!
The Regional Coalition for WHRDs in MENA held a meeting on the local protections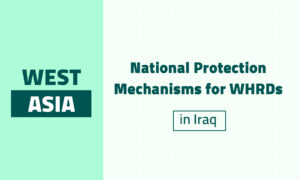 mechanisms for WHRDs in Iraq. The meeting was attended by various Iraqi and Kurdish organizations from different governorates.
During the meeting, WHRDs identified challenges they face during their daily work, which includes: threats, assassinations, defamation, arbitrary arrests and forced confinement, difficulty in moving from governorate to another, and lack of resource. WHRDs also discussed protection mechanisms and stressed the importance of suppoting each other as WHRDs and organizations in case any of them were exposed to any danger. The meeting was viewed as the nucleus of a local WHRD network in Iraq.
WHRDs also developed ideas to form national / local mechanisms to protect women human rights defenders as a local advocacy strategy which is based on reminding government and non-governmental bodies of their obligations  and implementing human rights conventions. WHRDs  also discussed the importance of gaining recognition of WHRDs, as a legal term and as a rol,  in the light of the international resolution of 2013 calling for the protection of women human rights defenders and recognition of their role. They also discussed this decision, and found it necessary to reaffirm the commitment of the countries on a regular basis and to make it mandatory in order to pressure the authorities to abide by it.
Background:
Since 2011, regional and national tensions have been growing worse and creating friction among countries in our region, pushing them to regional alignment. Such alignment have led to a re-emphasis on borders, including airports and the ability and freedom to move from one country to another. It also led authorities to use excuses such as internal displacement, refugee 'crisis' and 'war on terrorism' narrative to paralyze the work of human rights defenders and their movements.
Aforementioned tensions have led many WHRDs to use international mechanisms to report violations, grounded in international law, to stop such human rights violations. The use of international mechanisms by WHRDs often poses a lot risks, such as them being accused of "pledging allegiance to foreign agendas" and inciting tensions in their local communities; authorities usually campaign against WHRDs, to strip them from their credibility. Many have risked their lives because of their role as WHRDs.
Therefore, a meeting was needed to develop strategies regarding national/local protection mechanisms for WHRDs, to be used as a local advocacy tool in the region, which also aims at reminding authorities of adhering to their human rights obligations along with recognizing WHRDs in their role, in the light of the UN special resolution on WHRDs.
The purpose of this meeting is to be able to identify the main struggles and issues that WHRDs in Iraq are working, challenges standing in their way, safety and security strategies, and local protection mechanisms. The meeting will collectively explore the potential human rights law or conventions that can be used to obtain a legal recognition of WHRDs on a national level.