Content Developer
Call for Content Developer:
About WHRDMENA Coalition:
WHRDMENA Coalition is a membership-based coalition of organizations and women human rights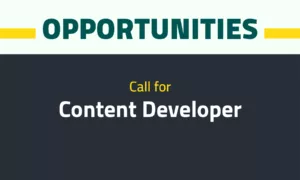 defenders engaging with and defending a spectrum of rights and struggles in MENA. The Coalition works through different tracks such as advocacy, digital security, documentation, knowledge production and dissemination in order to highlight and amplify the work of Women Human Rights Defenders in MENA. 
About the position:
The Coalition is looking for a part-time content developer to create original visuals, videos graphics and others for websites, social media, and campaigns. The Content Developer will use different multimedia channels to organize, analyze and re-introduce content produced by the Coalition. 
Responsibilities:
Creating original content in clear and presentable format through different multimedia platforms (short videos, designs, infographics, copy writing…)

Supporting campaigns launched by Coalition through developing and implementing a media strategy after consulting with the General Assembly, Board and Advisers. 

Analyzing and re-organizing knowledge and content documented by the Coalition into clear, easy to understand and accessible forms. 

Creating graphically driven formats like timelines, charts and illustrations.

Tasks/ specific:
Creating graphic templates for daily news products such as: alerts, updated news, etc
Producing graphics for statements, press releases and pieces to use in social media to promote our work and advocacy positions

Using our documentation and info to produce motion and interactive videos 

Designing interactive reports depending on need (there will be yearly reports/ quarterly/ reports launched in campaigns)

Customizing graphics for different social media platforms: twitter, FB, website. 

Conceptualizing and producing graphics for online advocacy campaigns. 

Producing infographics based on data provided by the Coalition. 

Assisting in developing a campaigning and media strategy for the Coalition. 

Building a visual identity for the Coalition based on discussions and conversation with the GA, Board and Advisers. 

Ability to work under tight deadlines in times of crisis in certain countries/regions. 
The ideal candidate must have:
Strong visual design skills with the ability to conceptualize and visually realize ideas are required.
Proficiency in Adobe Creative Suite, including Photoshop, Illustrator and InDesign, is required.

Proficiency in producing infographic videos and motion graphics is required.

Ability to keep up with current trends in design and social media technologies is required.

Experience with CSS and Javascript is a plus.
Interest in feminism and women's issues.
This consultancy is based on number of days and charged per days of work, we expect around 40-60 days of work.  Please send your CV and a Letter explaining why you you be prefect for WHRDMENA Coalition to comms@whrdmena.org in an email titled 'Content Developer'.