Membership Officer
About WHRDMENA Coalition:
WHRDMENA Coalition is a membership-based coalition of organizations and women human rights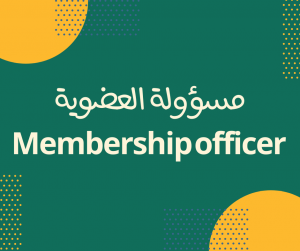 defenders engaging with and defending a spectrum of rights and struggles in MENA. The Coalition works through different tracks such as advocacy, digital security, documentation, knowledge production and dissemination in order to highlight and amplify the work of Women Human Rights Defenders in MENA. 
About the position:
The Coalition is looking for a part-time membership officer to guarantee a strong and engaged membership. The membership officer will act as contact for all WHRDMENA Coalition members and prospective members of the network regarding their membership enquiries, applications, renewals, and outreach in accordance with the Coalition's strategic vision.
Membership officer tasks/ general:
Developing and implementing tools, channels and activities to ensure a smooth membership administration and processes as well as a firm membership engagement. 

Proposing and implementing membership outreach and recruitment strategies and administration, in collaboration with the General Assembly, Board and Advisers,  in accordance with the needs of the Coalition's strategic vision;

Ensuring good communication with the members through choosing best accessible, sustainable and safe means, tools and channels of communication. 

Informing prospective and new members and introducing newcomers to make sure members are informed about new memberships.

Following up on new membership applications through verification and interviewing potential members.

 Organizing structured feedback and follow-up consultations on a regular basis. 

Developing and maintaining an efficient membership administration, including a database, analysing and reporting on the membership evolution and the state of the membership.

Writing periodic reports on membership status.

Specific: 
In terms of current membership: 
Revising the current membership database and developing a new one containing name, address, phone, representatives, date joined, renewal date, payment status, type of work, and last activity. The database can be established through excel sheet or a safe membership software. 

Holding one-on-one evaluation meetings with current members (individuals and representatives) to gather feedback regarding previous membership issues in terms of communication and online meetings and develop a membership communication strategy that caters to members' needs.

Holding quarterly update meetings with current members to learn more about their current projects and establish a work directory specified to members' current and ongoing projects. The work directory can be put on excel sheet that is categorized and divided according to the members' field and themes of work. (for examples listing all orgs working on service providing under 'service providers' etc….)

Choosing safe communication platforms and make sure that members have access to it through contacting them and trying out different platforms and choosing one that is suitable for members. Creating a guide on a word document to use that platform might be needed. 

Holding bi-weekly  update meetings in which members discuss plans, suggestions and strategies and taking meeting minutes and archiving them in a specified folder. 

Writing quarterly membership reports that specify number of members, their type of work, age, region/nationality and activity levels in the Coalition.  The quarterly reports should be consolidated in one yearly report at the end of each year. 

Developing a yearly membership management plan which includes activities recommendations (number of calls, how to make sure members are included in campaigning and other Coalition work) to maintain sustainable membership. 

Following up on members who decide to join working units, listing units and its members in a pinned directory that is accessible to all members. In addition to developing forms for each working group. 

Follow up on membership fee. 

Responding to all inquiries regarding membership. 
In terms of prospective members: 
Reviewing and verifying new membership applications before proceeding to interview each applicant individually or 2 representatives of the organization and writing about their work, along with informing them of the Coalition's work, protocol and regulations. 

Sending out these writings to advisers of the new applicant's region or to focal points in the new applicant's region. Sending out final applicants to the Board for approval.

Introducing new members to the General Assembly. 

Developing a membership and outreach plan for each region. 

Communicating on a regular basis with prospective members or people the Coalition has worked closely before but aren't members of the Coalition. 
The ideal candidate must be:
Fluent in Arabic (written and spoken) and English.

Have strong communication skills, including strong abilities in working with people remotely, communicating in clear messaging, and is able to manage work with people in different time zones. 

Experience working with membership softwares and information systems or is willing to learn.  

Skills needed include but not limited to: Excel, experience with online/conference meeting tools, and reporting skills

Willingness to learn about the different contexts in the MENA (maybe have orientation calls with certain members from the 3 regions)

Adhere to the Coalition's feminist values and principles which opposes hate speech and negative assumptions. 
Candidates can be placed anywhere in the MENA Region. This position is for a 6 month only in a part time capacity with the possibility of extension in 2021.
Please send CV and a Letter explaining why you would be prefect for WHRDMENA Coalition to comms@whrdmena.org in an email titled 'Membership Officer' by 12 July 2020.